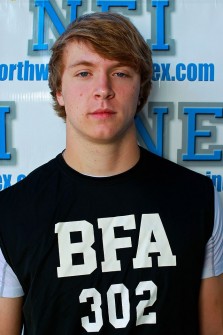 Give a lot of credit to the Air Force Academy as they rank one of the top 10 Universities in America (Forbes Magazine). The school was listed with the likes of Harvard, Princeton, Stanford, MIT, and others when referencing the top academic institutions in the land. Add to this they have been able to go out and find some of the top student/athletes in the country, and you have a big commitment coming from Peyton Dole (6-4 225 Sr. LB) of Eagle Point.
The kid from Southern Oregon put together one of the most impressive senior campaigns of any player in the Northwest. He had a phenomenal off season that saw him as one of the featured members at our elite events and on the Barton Camp and Combine Tour. Earlier last week he made his intentions known saying, "The visit cemented my decision to go to Air Force, its an awesome place and the coaches made me feel wanted."
His 2013 stat line read like something out of a video game, as he accumulated 138 total tackles, 49 tackles for loss, 14 sacks, 2 INT's, 8 blocked kicks, 9 forced fumbles, and 13 Offensive TD's. He earned 1st team all league honors on both sides of the ball and was a viable conference and state 5a Player of the Year candidate.
Eagle Point scored big with the hire of head coach Seth Womack, who moved from the college game to Central Point (OR) to lead the Eagles. You would be hard pressed to find a more solid and well rounded family then the Dole's as Peyton has thrived under the guidance of his coaches and family.
Referencing his commitment to one of the top universities in the country Peyton says, "It's a huge honor for me, coaches Mike Thiessen and Troy Calhoun came out to the school in December and spoke to coach Womack and my teachers letting them know they wanted me to come play for them". He continued, "Its a great D1 football program and one of the best educations you can get."
Our whole organization was humbled by the kind words of Dole during his press release as he said, "I owe a lot of my success to NEI and BFA, as going to the elite events in the spring and summer really helped me get back in shape after my injury". Adding, "Working out with guys like Joey Alfieri (Stanford), Ryan Nall (Oregon State), Nick Underwood (Air Force), and Jack Flor (Multiple D1's) at the events really allowed me to see where I was when competing against the best linebackers in the Northwest."
Peyton started traveling to Portland last winter making the 10 hour round trip. Speaking more on his off season he said, "Missing my junior year really put me behind as far as recruiting went and none of the schools had an idea who I was". He continued, "Participating in the NEI and BFA Events were the best thing I could have done getting me to where I am now."
Dole had heard from a host of different D1 schools including Idaho, Harvard, Northern Colorado, Fresno State, Colorado State, and San Jose State before making his decision. He is a 3.8 student and a kid with a ridiculous upside. Air Force Football is sponsored by NIKE and they will play their games on the ESPN networks. We will look forward to watching Peyton and the Falcons in the years to come. He is an even better kid then athlete.