Click for Evan Weaver Highlights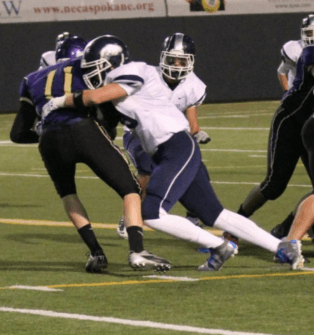 The Eastern part of Washington may not have a big number of teams in the upper levels of Football, but they have shown in recent years to have plenty of D1 caliber players. While it may be early to start labelling a 2016 athlete as D1, but a player who looks to be on that track is Evan Weaver (6'3″ 220) of Gonzaga Prep in Spokane.
Just watching his film you will see he is relentless in getting to the QB, and a player that never gives up on a play. His performance during his sophomore season was so good, the Greater Spokane League coaches voted him first team All-League.
"It's awesome to be recognized for the all city team," Weaver told NEI. "We have a lot of good competition and I'm just ecstatic they decided to pick me as a sophomore over the other good talent. It's awesome to be recognized and be able to show off my talents to coaches and teams on varsity this year."
Being just a sophomore, the fact that recruiting is a bit on the slow side should not be too much of a concern. Weaver is currently hearing from Washington State, Idaho and Eastern Washington.
"I'm new to this whole process and frankly not that familiar with it yet," Weaver said. "Therefore I'm open to what comes up and my parents support me in getting out there to be seen and learn about the schools."
Gonzaga Prep is a well known football power in Eastern Washington, and return plenty of talent next season to make a serious run. Weaver will be a big part of the Bullpups' defense, and has personal goals that would go a long way to helping them get into the state playoffs.
"Win the GSL defensive player of the year," Weaver added. "I also want to strive to make 1st team all-state and hopefully if my team gets far enough in the playoffs I will get recognized for for something like that. Also Increase my sacks, tackles, forced fumbles, batted passes. I want to be the guy that offenses have to specifically plan for."
Weaver isn't just about himself, he is quick to give his teammates praise, and also has team goals in place.
"Win the GSL and go far in state, you always have to strive to be the greatest". Weaver adds, "There will always be people and teams bigger and stronger but you have to believe you can beat them. So our team goal is to win state, and we believe we can do it."
Weaver is also an accomplished baseball player, and will see time in the Gonzaga Prep lineup at Center Field, 3rd Base and even some time on the mound. He also played basketball, but has given it up to train for football. Weaver also sports a GPA over 3.0, with plans in place to raise it.
I look forward to following Weaver few years and the Bullpups next season. I believe they are a legit top 10 team in the state, and a team we should be hearing a lot about towards the end of the season.