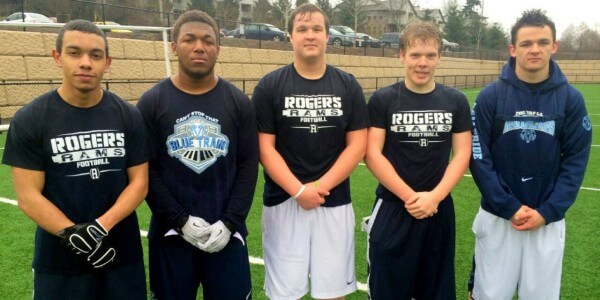 Click for Elite Event Highlight/M.O.P. Video
Playing in the Northwest we are plenty used to being outdoors in the rain, and this week we decided to stay outside, even with a steady drizzle. While it may have affected some of the Quarterbacks and Receivers, I didn't hear one complaint.
This week, the Rogers Rams of Puyallup were well represented. QB Griffen Stacy and LB Shane Ward show up every week, and work their tails off. Stacy has shown great improvement in recent weeks, and is becoming one of the most consistent QB's in attendance. Ward is a bit undersized when it comes to the group of LB's, but he is usually one of the top performers.
New to Barton Elite Events this week were three other Rams. WR Kyler Ooley is one of the top ranked receivers in the 2015 recruiting class, and this weekend he showed why. While he may not stand out if he wanted by you, he is a gamer when the ball is snapped. Joining Ooley at receiver was Jake Thaut. He worked hard and will be added to the honorable mention portion of our rankings, with a chance to move up. Both Ooley and Thaut have confirmed for this week's Winter Showcase Event.
The last of the new athletes was Running Back Ceth Edwards. He showed good speed and vision during the drills portion vs LB's, and should only get better as the offseason moves forward.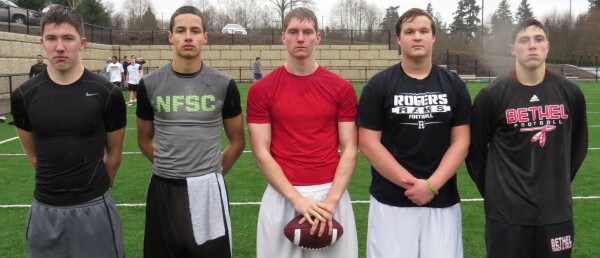 To say the Bonney Lake Panthers had a good day is a big understatement. QB Isaiah Weed, RB Ethan McElderry and DB Dillon Jordan were all three voted Most Outstanding Performers at their respective positions. Jordan was making his first visit to Barton Elite Events, and was obviously impressive. He came away with a few INT's and showed he can cover just about anyone we sent his way. For the second straight week McElderry wins an M.O.P. award, this week being from RB coach Greg Prator. Weed has become a mainstay at events, and continues to get better by the week. No doubt in my mind he will improve his numbers from last year, as Bonney Lake looks to be one of the top teams in the SPSL 3A.
This week there were two QB's that were awarded as a Most Outstanding Performer, as coach Taylor Barton also named Robert Harrelson ('15 West Seattle) as a recipient. Harrelson braved the conditions and completed passes all day.
QB's Jack Heinrichs of Issaquah is having a really nice offseason. He has really improved in the year that I have been watching him, and could very well be the starter for the Eagles next season. Bethel's Bryce Missey is one of the top 2016 QB's in Washington. He has good arm strength and has become one of the harder workers. The Braves will be one of most improved teams in the SPSL, and Missey is a big reason why.
Two 2017 QB's that had impressive days were Dexter Mell of Juanita and Ryder Johnson of Peninsula. Mell has become a weekly participant at Elite Events, and has become one of the more consistent players on a weekly basis. Johnson was making his first appearance and proved he is ready for the Elite level competition.
Jake Herzog (Montesano) and Jordan Lawson (Kentridge) are two of the more up and coming QB's in the 2016 recruiting class. Both have worked very hard this offseason, and should will be looked at to help their teams to the next level.
There were two non-High School QB's in attendance, and for good reason. Ayden Ziomas and Dylan Morris are two of the hardest working QB's in the state, regardless of age. They come to work each week with the High School athletes, and continue to show they belong.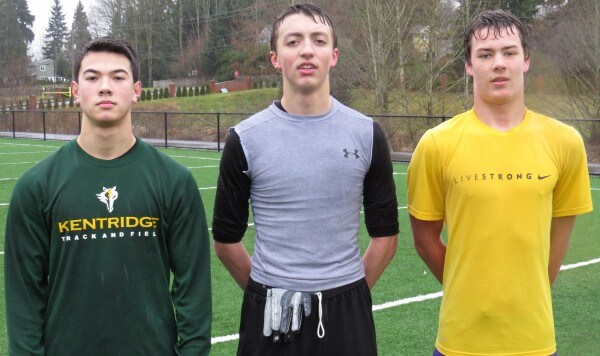 Antony Randolph of Kentridge has proven time and time again that he is one of the better cover corners in the 2015 class, as he locked down one receiver after another, after officially confirming for the Las Vegas 7-on-7 tournament. The first time I saw Mark Findlay was last year at the Issaquah Combine. His improvement over the last year has been noteworthy. From his footwork to his overall athleticism, Findlay is one of the most improved players I have seen, and will be on the 2016 watch list that will be released next week.
Going against those DB's this week was one of the more impressive group of WR's we have seen so far. Two Emerald Ridge Jaguars split the Most Outstanding Performers this week, as coach Mike Bush recognized both Landon Jones ('15) and Brett Rankin ('15). Rankin is one of the hardest working receivers in the state, and is regularly one of the top performers at Barton events. Jones was a first time performer this week, and received an invite to join the Las Vegas 7-on-7 squad. He is one of the top two-way players in WA's 2015 recruiting class.
Three of the top 2015 WR's in Washington have become mainstays at Elite Events. #1 Dayzell Wilson (Bothell), #11 Christian Stafford (Beamer) and #14 Rashaun West (Kentridge) have become regulars and attend every week. All three players have been invited to join our Las Vegas team, with Stafford and West officially confirming on Sunday.
Connor Heger ('15 Eastside Catholic) continues to prove he is more than just a blocking TE, and this week even earned an invite to Vegas. Jaron Selset ('16 Newport) made his first appearance, and quickly earned an invite to Las Vegas, as well. He consistently made plays, despite conditions being lest than ideal for Wide Receivers.
Three freshman wide outs had really nice days. Hunter Eckstrom (Lake Stevens) attends Barton events on a weekly basis, and continues to grow as he gets more time with Mike Bush. Dean Sise (Juanita) has become one of the hardest working receivers at events. His route running is improving, and he is clearly getting better by the week. Salvon Ahmed (Juanita) was one of the first invites to Vegas, and proved it on Sunday as he is clearly a notch above everyone else in his class. All three players will be on a 2017 watch list coming soon.
The youngest WR in the group this week was Robert Mason. He will eventually play at Graham-Kapowsin, and showed he is ready to compete with the high school athletes.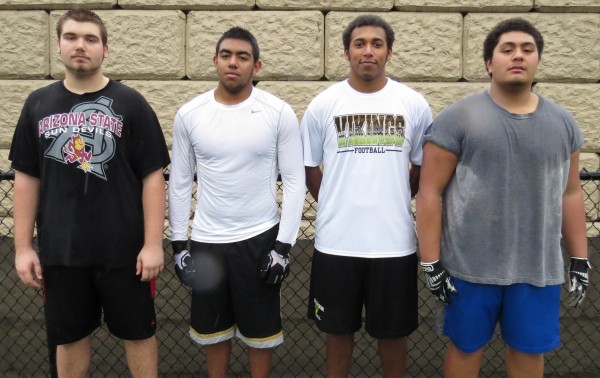 One of the best lineman groups of the offseason was highlighted by the play of Tyren Holt. He is one of the top defensive players in KingCo, and projects as a DE/LB hybrid and excels at rushing the passer. Barton coach Matt Roth spoke highly of Holt's motor, as he was consistently relentless on the pass rush.
Maybe the best two-way lineman of the day was Robert Savusa of Federal Way. Savusa was very good last season, and continues to impress this offseason. Another good two-way lineman was Elijah Lugo of Graham-Kapowsin. This was the first week Lugo participated in the Elite session, and showed he is very capable of working with the state's best.
Seattle Prep's Taariq Vanegas is still growing, and becoming one of the better DL in the 2015 recruiting class. He is still very young for his recruiting class, and a very good student. Another hard working 2015 recruit is James Pak of Bellarmine Prep. Pak comes to play every week, and showed very well in the one-on-one portion.
Freshman Brody McKnight of Eastside Catholic is consistently one of the best one-on-one lineman at Barton Events. The 2017 recruiting class is loaded with lineman, and McKnight is near the top of that list. Sophomore Sean Zuehlsdorff of Puyallup is one of the more up and coming lineman in the 2016 class. He is a hard worker, consistently travelling over an hour to come to events.
Two new lineman this week were Matt Hochstetler ('15 Inglemoor) and Kelsi Colon ('15 Cascade). Hochstetler is a big strong kid, that will help anchor the Vikings offensive, with teammates Tyren Holt and Jackson Gardner, a converted TE. Colon has been a varsity player since his freshman season, and last year was a second team All-Wesco selection.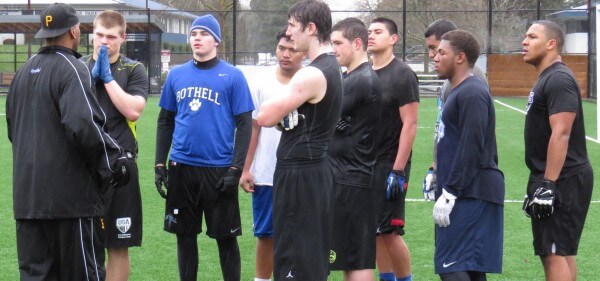 Braiden Beckman ('15 Kentridge) has been one of the most consistent athletes, week in and week out, and this week was considered the Most Outstanding Performer by Barton coach Dion Alexander. Beckman is always mixing it up in the one-on-one session, and showed very well in the LB/RB drills portion.
This week three Federal Way Eagles showed up and very easily could've been voted M.O.P. after having great days. Chris Tuiasosopo ('15) has become a regular at Elite Events and will be ranked very high in the 2015 rankings. Charlie Taumoepeau ('15) and David Tiumalu ('15) showed up for the first time, and made it very clear that the Eagles mean business. These three will be a force to be reckoned with in 2014 as Federal Way looks to again be one of the top teams in 4A.
The 2015 recruiting class was well represented, as Andrew Monlux (Kingston) and Grant Williams (North Thurston) showed up and both had really nice days. Both athletes come to work every week, and are definite #UnderTheRadar type candidates.
Joel Dublanko ('17) of Aberdeen is a national recruit, and for a reason. He is always one of the biggest LB's in attendance, as well as one of the most athletic. Jesse Sims (Bothell) has become a Barton regular, and had another good week as he looks to earn a spot on a very talented Cougar roster.
Battling all day with the LB's were a solid group of RB's. While Ethan McElderry was the M.O.P. KeJuan Coleman (Cascade) was not far behind. This is the second week in a row Coleman has shown very well. After a nice junior season, Coleman looks to be one of the better backs in Wesco.
Renton's Elijah Clayton ('15) showed very well in the FB drills this week, and looks to be one of the state's best at that spot. Coupeville's Lathom Kelley again proved to be a gamer. Playing at a small school (1A) may prove challenging for recruiting, but Kelley has proven he is a capable back.
New this week was Josiah Celestine ('15) of Emerald Ridge. He was one of the better backs during the RB/LB drills, and will be joining our rankings board this week.