Click for KeJuan Coleman Highlights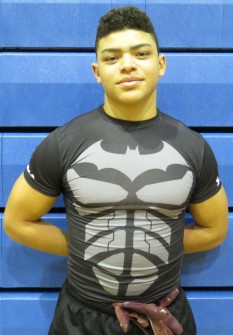 We've been talking about the Cascade (Everett, Wa.) football program for the past couple of years as head coach Joe Cronin has brought the Bruins from bottom-feeder status to being a perennial playoff team. This fall, RB KeJuan Coleman promises to be one of the top playmakers for his team and he updated Northwest Elite Index on how things are going this offseason.
As a junior this past fall, Coleman, a 5'10", 195-pounder, posted 886 yards and 10 touchdowns on 115 carries while also racking up 72 tackles on defense.
"I mainly played running back and slot-back on offense and at linebacker in our defense," Coleman said. "We run a 4-4 so I'm sorta in the box, but I play linebacker and drop (into coverage) a lot."
With his size and his reported 4.59 electronically timed speed, Coleman is already a big threat as a playmaker, but he's been hard at work this offseason on getting ready for even more of a workload as a senior.
"I'm a football player. Football is what I do. I just love to play ball and I see myself as a playmaker," Coleman said. "I'm an athlete so I can play anywhere. I'm not a one-dimensional player and that allows me to help my team in anyway that they need me to."
On the recruiting front, his skills as well as his versatility are what have schools drooling over what he can do.
"I've been hearing from UPS (University of Puget Sound), Washington State and Washington the most so far," Coleman noted. "I figure I will have to get out and hit camps this spring and summer and show schools what I can do.
"I'll go to the Nike Camp at Oregon in June and as many of the Washington State, Washington, Central Washington and Eastern Washington camps that I can make.
"I'm also planning to do Barton camps and stuff like that, so I'll be busy."
With his playmaking abilities, don't be shocked to see more schools start to get in the mix for Coleman. He will be the central figure on the Bruins' offense this season and should put up the kind of numbers that will draw attention after the season, if not during it.