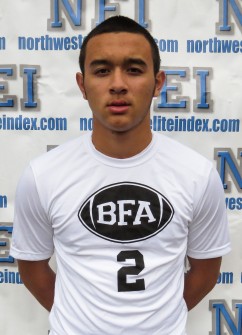 The 2016 recruiting class looks very strong in the State of Washington, and a WR making a strong name for himself this offseason is Kyle Olson-Urbon of Peninsula (Gig Harbor) High School.
At five-foot-eleven inches, and 190 pounds, Olson-Urbon is a dynamic playmaker that sets the bar very high at any camp he attends. He is a three sport athlete, also participating in Basketball and Track, and is a member of different leadership and student government activities around the school, all while sporting a 3.6 GPA.
The Seahawks finished 9-4 last season, again losing to perennial state power Bellevue in the Quarterfinals. Olson-Urbon was awarded second team All-League as both a Wide Receiver and Punter after an impressive sophomore season.
"Having Kyle as a receiver makes my life easy," Peninsula QB Robert Kvinsland told NEI. "He is a very well rounded player as he has elite speed, hands and route running ability and also has good size. He will be a huge factor for us in repeating as SPSL 3A champs and all of our other team goals for this upcoming season."
Olson-Urbon was invited to play with the Barton Football Academy down in Las Vegas for the Pylon 7on7 tournament. He was the only underclassmen on Team Washington Elite, and came away as his team's breakout performer.
"Going to Vegas was a real eye opener for me," Olson-Urbon says. "It showed me where I need to be. It was great to be the only underclassmen on the team and to get the great reps that I got was amazing."
Right now, he and his teammates are getting ready for next season. The Seahawks are right now the front runner to three-peat as SPSL 3A champs, but there is still a ways to go before that happens.
"We have lots of spring workouts to get ready for the season," he said. "I was personally invited to the Oregon camp, Portland State camp, will also be going to UC Davis and Idaho camps in addition to the Oregon State Team camps.
"I want to be All-League and All State for a state championship team. Looking to Three-Peat for the 3A SPSl title and undefeated in league for the 3rd straight year."
Recruiting is good for the junior to be, as he is hearing from the likes of Oregon, Montana State, UC Davis and Portland State, but he currently sits without an offer.
I look forward to watching Kyle and the Seahawks this coming season, as they should again make some noise in the always tough 3A classification.