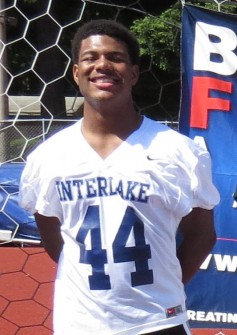 A name recruitniks need to keep in the back of their minds as we inch closer and closer to the start of the 2014 football season is that of Interlake (Bellevue, Wa.) LB Amahn Edwards. He's a big, physical kid with great instincts, but because he's made the switch from Garfield to the east side, there's a very good chance you haven't heard his name much.
Edwards measures in nearly 6'2″ and weighed in recently at 220 pounds and he just recently started going full speed after recovering from a Lisfranc injury.
"I just started to run full speed recently and this (the Barton 7-on-7 tournament held on June 1st) is the first football-related stuff I've done since last season," Edwards told Northwest Elite Index. "I missed the last two games of last year over at Garfield and then I had some family stuff happen and I made the over here to Bellevue and that's why I am here at Interlake."
Because of some family stuff at home, Edwards may be looking at getting a fifth year in high school, but that is something that will be decided later. Currently, he's focused on having the best season he can and hopes to help lead the Saints, a team that went 1-9 last season, to the playoffs this fall.
"We're going to compete all the time," Edwards said. "The coaches preach that. Our team had some tough losses last year and I think this year, with guys really buying in, we can have a great season."
"He's a real hard worker and he reads things really quickly on the field," second-year head coach Dave Myers told NEI this spring. "He's a physical guy and that will really set a tone for us on the defensive side of the ball, but he's also going to play some running back for us.
"I think a lot of schools want to see how he does at camp and to start the season this fall and then we'll see if he can get the fifth year or not. It's really hard to tell right now, so we're just focused on getting him ready to be done after this year."
On the recruiting front, several schools dropped by Interlake in May to check out Edwards, as well as a couple of other teammates, and, while he's waiting on offers, he said he plans to hit camps at a couple of the programs that are interested in him.
"Washington, Idaho State, Eastern Washington and Washington State all have shown interest in me," Edwards noted. "I'm going to hit the U-Dub (Rising Stars) camp and the Eastern camp for sure and all of the Barton stuff too.
"I'm open to anyone that wants to recruit me, but, more than anything, I'm out here to help my team win games and to be the best player I can be and if that is good enough to play in college, then I'll be excited about that too."
While Edwards looks good already, he's a bit on the soft side since he hadn't been able to do much in the way of conditioning. After a full summer with Myers and the rest of the Interlake staff and taking part in their offseason program, expect Edwards to be a chiseled prospect that brings the physicality and smarts necessary to help make the Saints' program much more competitive in year two of their move from 2A to 3A.
As we said, he's not a big-time recruit right now, but if his academics get back on track (and all indications are that is the case) and he continues to develop, he could be a huge steal for whichever program takes a flier on him and he will make a fan base very happy when they see what he can do .