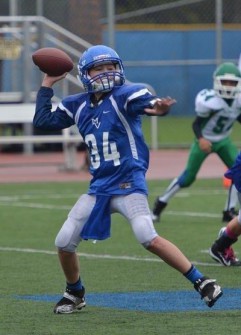 With a slender build of 5'7″ and 115 lbs., Kellen Laing is a 7th grader making a name for himself. With solid passing and arm strength that rivals athletes that are much older, Laing is making serious plays in every league he plays. He has the ability to fit the ball into tight passing windows while in the pocket or on the move.
While with the Jr Tahoma Bears in the fall, Laing was able to rack up some impressive stats and awards. During the 2013 season, he was the team captain and threw for 1500 yards with 16 touchdowns. In addition to his skills as a passer, Laing is also a monster on defense. While playing LB for the bears, he had a incredible 63 tackles, 5 sacks and 3 forced fumbles. Because of his impressive numbers on both sides of the ball, he was given the "Iron Man Award" by his teammates last year.
After watching some film, I decided to attend an IYFL passing league game to watch him play in person. Following another impressive showing, I was able to ask him what makes him so successful . He replied "I try not to get emotional, up or down. I try to be the leader and a great teammate. I can't help it, I love to play football". After that comment, it was no surprise to me that he models his game after Payton Manning.
Laing is in his first year of arena with the IYFL Red Team where fitting passes into small windows becomes a necessity. And to continue to hone his craft, he works one-on-one with Taylor Barton himself. Between his strength and conditioning at the IYFL, and his training with the Barton Football Academy that has teamed up that the Tahoma Football Program, he keeps getting better. His Head Coach in arena told me that "he's getting stronger every day. He's working out on his own more now that he's in the weight room with the IYFL. Taylor keeps improving his game every week, and his baseball training helps his speed and agility."
Laing is a hard-working young athlete dedicated to his craft. The work and effort are paying off. Laing will be attending Tahoma HS in a couple of years and I'm sure they are eagerly awaiting the arrival of this gun slinger.