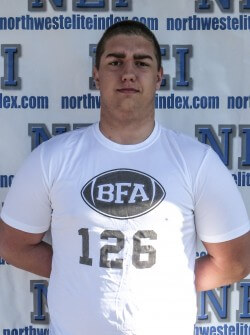 Great news from the Sammamish Plateau tonight as the State's top 2015 class interior lineman Alex Neale of Eastside Catholic has been offered by the University of Montana.
"Coach (Scott) Gragg, the OL coach, said on Friday when I was there that they were very interested and should stay in touch," Neale told NEI. "So I decided to call him today after working with Coach Yensen at Cal, and told me he had talked to the staff and they were all on board with giving me an offer."
This offseason has seen Neale's stock grow as more and more schools begin to take notice. He was one of the top performers at the Pylon Lineman Competition in Las Vegas only a few weeks removed from a long wrestling season.
Nealee visited Montana, Boise State and Cal this weekend, and getting his first offer seems to have motivated the soon-to-be senior.
"I'm happy, but even more hungry if that makes sense," Neale says. "Knowing that someone is actually giving me the chance to play at the next level is truly humbling and says to myself that hard work truly does pay off. But why stop here? Why not keep working?"
The busy offseason doesn't appear to be slowing down anytime soon for Neale, who is still working out with his team, and has both individual and team activities planned up until the start of fall camp.
"Besides going to Air Force, Oregon, and then Oregon State for team camp, I'm back with my team and gearing up for a great final season," Neale said. "We have come this far and don't plan to lose another year in the finals."
This could be the first of many for Neale, and you can expect NEI to be on top of every offer he receives.