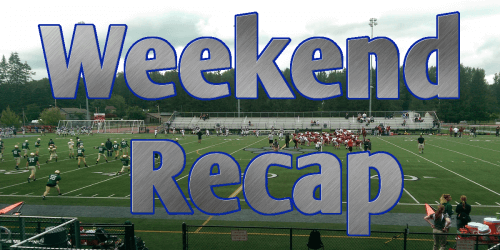 Some parts of the job can be a bit of a grind, but it is weekends like this last one that remind you just how much fun your job can be.
Skyline High School hosted their annual Skills and Drills on the Hill. It is a two day 7-on-7 event, with a Kicking Competition Saturday, and Lineman Competition on Sunday. After Saturday's event, I made my way out to Mount Si High School, where the Wildcats were playing host to O'Dea, Lake Stevens and Redmond. Following that event, I sped out Highway 18 to Tahoma High School, where the Bears were scrimmaging Auburn Mountainview and Newport.
This article will really just be some random thoughts from the weekend. There will be mentions of players who stood out, as well as teams I thought played well. At Skyline, I am one guy with up to six games going at once, so I am sure I missed something along the way.
—-
Skyline Skills and Drills :
Eastside Catholic was the best team on the weekend. Brandon Wellington ('16) played a little bit of everything on both sides of the ball, and showed why he is so highly regarded. Wellington's size, speed and natural instincts make him such an exciting player to watch. QB Harley Kirsch ('16) was at Washington State's Camp on Saturday, but did show up Sunday and was on point all day.
Also for Eastside Catholic, Matt Kvech ('15) looked great at Safety, coming away with multiple INT's on the weekend. When teamed with CB Terin Adams ('15), the two pretty much shut down half of the field.
Matt Laris ('16), also from Eastside Catholic, may have been the top WR on the weekend. He is tall, fast and has great hands. Two LB's really stood out as well, Anthony Masaniai ('15) and Ricky Medeiros ('16). Both played with good instincts, speed, and a little bit of attitude you like in your backers.
One last name from Eastside to keep an eye on is TE Hunter Bryant ('17). He is beyond his years in just about every aspect of the passing game, and made a few highlight reel catches on Sunday.
The Lincoln Abes look to be a top 5 team in the 3A Classification, and played very well over the weekend. Dehonta Hayes ('15) played well on both sides of the ball. Defensively he played mostly on the corner, and was about as lockdown as you could possibly get. LB's Jusstis Warren ('15) and BJ Hawthorne ('15) both continue to impress. Combined they form one of the top LB tandems in the entire state. Warren even showed a little versatility, playing some Safety as the day went along.
The Abes lineman performed well on Sunday afternoon, and eventually came away as champions of the Tug-O-War. Ben King ('15) was the anchor on the back end, and was nearly immovable.
The athlete that made the biggest name for himself from Lincoln was Devan Brady ('16). He has good size for only being a sophomore, runs good routes and showed some of the best hands on the weekend. Towards the end of Sunday, it seemed like he scored on almost every Lincoln possession.
It was good to see QB Jordan Kitna ('16) again. He has clearly worked hard on his mechanics this offseason, and the game is really starting to come to him.
AC Davis (Yakima) participated both days, and Ketner Kupp ('15) continued to have a tremendous offseason. He looks great on both sides of the ball and really impressed with his ability to create space as a receiver. The more I see him, the more I think he may project higher as a WR.
Eric Briscoe ('16) looked great as well. He may be the tallest Safety in the state, and his physical presence can been seen in 7-on-7 with opposing WR's hearing footsteps.
QB Bryce Missey ('16) of Bethel had a nice weekend. He made a few throws against Skyline on Sunday afternoon that were an absolute thing of beauty.
I think the surprise team on the weekend was probably the Chief Sealth Seahawks. They performed very well, and could be one of the better teams on the public school side of Metro. Daron Camacho ('16) is a RB/LB to keep an eye on. He is small in stature, but is an absolute stud on both sides of the ball.
The Seahawks also have a gigantic group of lineman that participated Sunday, losing in the semifinals of the Tug-O-War.
The Skyline Spartans looked very good at times both days. Blake Gregory ('16) looks ready to step in and be the next great QB at Skyline. He has good arm strength, accuracy and made good reads at every game I attended. Rashaad Bodie ('16) looks like a man among boys at first glance, then you watch him play and realize he might be. Bodie is a physical specimen, and showed on the weekend that he is capable of being a target out of the backfield.
Elijah Nichols ('15) and Cameron Wong ('15) both played very well. Nichols is a big physical receiver, who can also play some LB, while Wong is primarily a tough middle backer, but can also play some RB.
One of my favorite players to watch on the weekend was Danny Sinatro ('16) of Skyline. He is very active on either side of the ball, and can just flat out play football. He made play after play both days, and should be fun to watch the next two years.
Graham-Kapowsin looked good on Sunday, with Foster Sarell ('17) stealing the show in the lineman competition bench press, by putting up 30 reps of 185 as just a freshman. To say his future is bright would be a vast understatement.
In 7-on-7 the Eagles played well. QB Trevor Asbjornsen ('15) continues to look strong, and TE Donald Walkinshaw ('15) finally looks like he could be a bigger piece of the GK Puzzle offensively, and could be in store for a big senior season.
The overall winner of the lineman competition were the Kentwood Conquerors. Their 7-on-7 team had a nice weekend as well. Brian Campbell ('16) and Chavez Kalua-Fuimaono ('17) are names to keep an eye on. Campbell is a quarterback with a strong arm, good accuracy and could be one of the top QB's in his class. Kalua-Fuimaono is a flat out stud at LB for the Conks, showing good speed and natural instincts.
Only playing Sunday, the Peninsula Seahawks looked good. QB Robert Kvinsland ('15) looked shaky at first, but brushed it off and began throwing the ball like he can. Much like Kvinsland, WR/DB Kyle Olson-Urbon shook off some early rust to be one of the better performers on the day.
—
Mount Si Scrimmage :
It is always nice to get out make the back road drive out to the Snoqualmie Valley and Mount Si High School. If you haven't been up there for a game, the setting and fans are absolutely incredible.
The host Wildcats looked strong. Jojo Hillel ('15) proved why he is one of the top QB's in his recruiting class, hitting receivers in stride all day. The way Hillel commands the offense is not something you would expect from a first year starter, but like we have said before on NEI, he was probably the state's top backup QB last season.
Fresh off his first offer, lineman Chris Schlichting ('15) looked good for the Wildcats, getting a little mean and nasty in him. Keep an eye on Schlichting, as a few schools are rumored to be close to offering.
Couple surprises/names to keep an eye on from Mount Si are Sean Hyland ('15) and Colton Swain ('16). Hyland projects as a inside receiver, with great overall athleticism and hands, could be in line for a big season. Swain was the top target for Hillel, and at six-feet-four inches, Swain had no problem making plays. When you put these two with Parker Dumas (Not in attendance), you have one of the better sets of receivers in the state.
For Lake Stevens, there were two real standouts in Tevin Gray ('15) and Jacob Eason ('16). Gray is a solid two-way player who was wide open all day, and found the endzone on a few different occasions. Eason, well, what can I say… He is highly ranked for a reason, and showed why. He throws one of the nicest balls I have seen out of this state.
O'Dea… First thing I noticed is their line looks HUGE! RB Myles Gaskin (Didn't participate) will absolutely love running behind that bunch this coming season. One player who really stood out for me was Nathan West ('16). He is a QB that can do a little bit of everything, but is not your typical O'Dea QB. He throws a really nice ball, and has good all-around athleticism.
The Fighting Irish LB's, led by Jake Oliver ('15), really stood out as well. Julius McDade ('16) and Montique Edwards ('16) teamed with Oliver to form a TOUGH group, that had multiple bone crushing plays, leading to several roars from the crowd.
Redmond was a bit of a surprise. I was unable to get down and grab names of players who stood out before I had to leave, but the Mustangs showed a toughness that has been lacking in recent years. Could they be a surprise team in Kingco 4A?
—
Tahoma Scrimmage :
The drive out to Mount Si could be rivaled by the drive out Highway-18, if it wasn't for a group of slow trucks getting in the way!!! Okay, I vented a little.
I was late getting to the event, but the stars of the show clearly Calvin Throckmorton ('15) and Paul Wells ('15) of Newport High School. Throckmorton needs no introduction, and really proved his worth all night. Wells is a speedy back that got in the endzone multiple times on the night.
Tahoma was missing most of their top players, but still played tough, notably Amadre Williams, Michael Clausen and OJ Jenkins, who were all attending the Washington State Camp. QB Damian Maricic ('15) threw the ball nicely, and ran the read plays well. 2016 Center Zach White played tough in the interior.
I wasn't too focused on Auburn Mountainview, as I will see them on Tuesday afternoon, but as usual, Aeron Watson ('15) played very well at his MLB spot. Gresch Jensen ('16) looked sharp and like he may have gained some weight to help take the pounding of the read plays Mountainview asks of their QB.