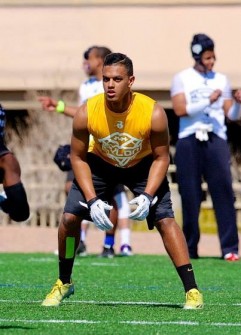 Great news from the South Sound where LB Trevor Davis of Tumwater (Wash.) received his first offer, when the coaching staff from Portland State University made their intentions known.
"It's a great feeling to get my first offer," Davis told NEI. "All the hard work that I've put in throughout my life has gotten me a free ticket into college and to be able to play the sport I love. But it is also a great motivator to keep pushing to open as many doors as possible. The more options the better."
Davis' stock has risen consistently during the last year, and it comes as no surprise he is now an offered athlete. Kudos to the Portland State coaching staff, who made the move while Davis was on campus for a camp.
"Coach (Malik) Roberson came to visit me at school last month and from there we began to talk," Davis said. "Then at the NorthWest Elite camp I had the chance to work hand in hand with Portland States linebacker coach, Coach (Lester) Towns, he said that he was very impressed with me. Two days later I was able to work with him again at the Nike NFTC.
"Last Tuesday I received a email to call Coach Roberson ASAP to finish up some questions he had for me and he told me that I really should make the trip down to Portland that Friday to attend their one day camp. He said 'it would be worth the trip'. After camp I met with a couple of the coaches including the head coach (Nigel Burton) and he offered me a full ride."
This could be the first of many for the high rated senior-to-be, as he has interest from schools across the Big Sky, and even a few FBS Mid-Majors. For now he is focused on getting better and working with his teammates.
"The rest of the summer like always will be a continuous preparation stage for me to better myself and prepare for the long season ahead," Davis noted. "The road doesn't stop here since I have received an offer. There's always room for improvement and that's exactly what I plan to do."
The Thunderbirds will again be one of the top ranked teams in the 2A Classification, with Davis' being a big part on both sides of the ball. I look forward to watching Davis and his teammates, in what could be a championship season.