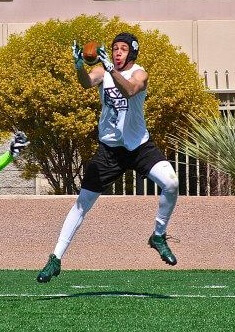 Even though he plays for one of the top 4A programs in the state, we're just now starting to learn about Skyline (Sammamish, Wa.) WR Derek Loville. This spring, the talented wideout has drawn interest from several FBS programs and he looks to be one of the top in-state receivers heading in the fall of 2014.
While helping to lead the Spartans to a 9-2 record, Loville managed to post 36 receptions for 532 yards and five touchdowns from his receiver spot and this fall, the hope from the Skyline staff is that he will be able to use his 6'3″, 195-pound frame to be the downfield playmaker their offense needs him to be.
"Last year I was more of an intermediate guy, but with a better understanding of our offense and stuff this fall, I think I can really let my speed show itself and be that guy who can get deep," Loville told Northwest Elite Index recently. "I'n 7-on-7's this spring, I was able to get deep on guys and make plays down the field and I think that's what I'll be able to do this fall.
"I can do whatever my team needs me to do. I can make plays with the ball in my hands, so they can get me the ball short and let me make a play or I can get down the field and go up and get it when I use my size and my leaping abilities."
On the recruiting front, schools have been keeping tabs on him since the spring, with schools like Boise State, Idaho and Washington State all expressing interest and with offers from Wyoming and Eastern Washington.
"I didn't hit the camp circuit this summer because of some stuff that came up, so I just will have to prove it on the football field," Loville said. "I've been working a lot on my speed and my footwork and I think this will wind up being a big season for me and for my team."
With his size, leaping abilities and athleticism, Loville is a player that could wind up exploding with a fast start to the 2014 footballs season. His father, Derek, was a standout at the University of Oregon and enjoyed an eight-year career in the NFL, so the younger Loville definitely has the athleticism necessary to be a playmaker at the next level.
We will have more on Loville in the coming weeks and months and we will update news on him as it happens.