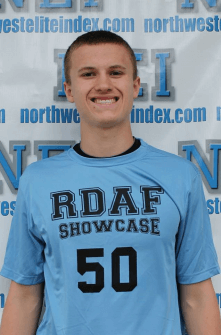 One of the Northwest's top ranked receivers for the 2016 class is Cody Coppedge (6-3.5 180) of West Linn (OR). He earned 1st team all league honors as a sophomore in the state's toughest conference (TRL) , catching 40 passes for 526 yards and a TD.
As most know Cody comes from a very athletic family, with his father being a former Duck, and older brother Hayden excelling in football and basketball. The youngest Coppedge could be the best of the bunch as he is also a legit hooper, with two state titles already under his belt.
Referencing the upcoming season Cody says, "Tim Tawa will do well at QB with Elijah Molden, Connor Berggren, and Kurt Moon being great receivers". Adding, "Defensively Nick Yokobitus and Sam Chitty will lead us at backer with Blake Fletcher being a very talented defensive end…Elijah and KT Seth are lockdown corners."
New Head Coach Chris Miller has made the move from South Eugene and everyone in the Lions community is excited. They have talent on both sides of the ball and Miller is a guy that knows how to win. The schedule within the Three Rivers League is brutal, but you can expect West Linn to be a conference title contender in the coming seasons.
Two weekends ago in Bellevue, Coppedge was named the Underclassmen WR MVP at the RDAF College Showcase. He has legit D1 size and the athleticism necessary to play at the highest level. Having Molden opposite him offensively makes defenses stay true and not double one or the other. There is no question that the Lions will put up points.
In closing the kids out of West Linn have a lot to look forward to. Coppedge is the real deal and the group itself is one of the fastest rising teams in the state. We will keep you updated as the season draws near.