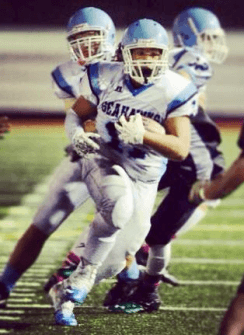 Most football fans in this state probably couldn't tell you where Chief Sealth International High School is, but you may want to keep an eye on the small school in the south part of West Seattle, as two-way standout Daron Camacho ('16) is set to do big things in 2014.
At five-foot-nine, Camacho may be smaller than most athletes on the field, but his drive and desire make it seem as though he is bigger than he actually is.
Camacho was voted 2nd team All-Metro last season for his work at Runningback. This is the second straight year Camacho has been honored as an All-League member, after being a 2nd team member as a freshman at Linebacker.
"I want to make it past just being All-Metro," Camacho told NEI. "Making improvements came right after we lost our playoff game. I'm working to get my speed up so I can expand my running game. I'm also working on my strength so its harder for opponents to try and tackle me.
"I want to rush for well over 1,000 yards, have a 200+ yard rushing game, and be the Metro MVP."
Camacho also wrestles for the Seahawks, and is one of Metro's best, finishing first in the League, and qualifying for the state tournament as a sophomore. This is the second year he was a state participant, after finishing 3rd in Metro as just a freshman.
On top of everything, Camacho sports a 3.5 grade point average, and is also a member of TRIO and the Polynesian Club at his school.
For the Seahawks to be successful, they are going to need for Camacho to do a little bit of everything. He is very much a team player, with lofty team goals that are fueled by getting a taste of the playoffs last season.
"We want to start the season with a win, beat our rivals, get past the first round of the playoffs and go to the dome," he says. "It (playoffs) was a good experience to see what the talent is outside of Metro. It showed a lot of us how much we need to prepare during the season.
"Now that we know how it feels to make it to the playoffs, it is time to make it past the first round and compete for the tittle."
Camacho is quick to deflect the attention from himself to other members of his team. He speaks especially high of his offensive lineman, led by Greg Tauti ('15, 6'2″ 290) and Andrew Leota ('16, 6'3″ 290).
"Greg leads the offensive line and you can always depend running behind him for positive yards," Camacho said. "Andrew is always the biggest kid on the field. He has a big motor and clears out the defensive lineman for big runs to happen."
The skill positions should give Camacho plenty of help offensively next season, as Brady Crane (WR '15, 5'9″ 180), Alloney Burris (WR '16, 5'10" 170), Ronnie Parker (WR '15, 5'8″ 150) and Ryan Maroney (TE '15, 6'3″ 200), will all be prime targets for quarterback Weston Reed ('15, 6'4″ 210).
In the end, Camacho is what many would consider to be the heart of the Chief Sealth team. They look ready to make a statement this coming season, and have the makings of a solid playoff squad.