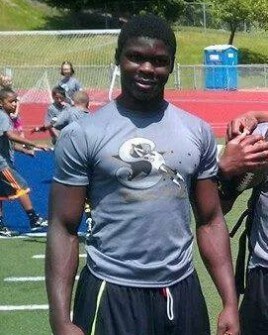 Kent Meridian ATH Emmanuel Daigbe had a great summer, showcasing his talents at a couple of regional camps and, as he heads into his junior season with the Royals this fall, he hopes to put himself squarely in the sights of college football coaches.
"I've had a good summer and offseason with my team and at some camps," Daigbe told Northwest Elite Index recently. "I've been working a lot on my speed and getting stronger. I run a lot and lift a lot and that's somethings I've been focused on this summer."
Daigbe blew those in attendance at the Northwest Elite Camp away as a receiver. He used his body well, showed outstanding separation on routes and the ability to go up and get the ball.
The ironic thing is, his stock in trade has been as a linebacker, but he expects that to change this fall.
"Last year, I didn't really play receiver at all, but this year, I definitely plan on doing that," Daigbe said. "I played linebacker last year. I like to hit guys and be physical, but honestly, I love catching the ball too."
As a linebacker, Daigbe totaled 54 tackles, four sacks and an interception and he plans to be even more of a playmaker on both sides of the ball for the Royals this season.
"I just love being on the field and being with my team and helping them any way that I can," Daigbe noted. "If that means I get more work on defense, then that's what I'm going to do, but I also want to be more of a downfield threat for my team and I think we can do that this season."
Another unique thing about Daigbe is the fact that he is an accomplished wrestler and he placed second in the state in the 170-pound weight class this past winter.
"I've been wrestling since I was a seventh grader," Daigbe said. "It's sorta been natural for me to do it. I got second in state as a seventh grader and then, the next year, when I was in eighth grade, I won state for my weight class.
"This year I did pretty well and I got second in the state for my weight class and next year, my goal is to win it all."
Usually you hear about linemen using what they learn about leverage and angles in wrestling, but he said it also helps receivers and linebackers.
"It definitely makes you more physical and that's something I think that surprises people," Daigbe noted. "It makes me much more physical that I'd be without it. I love the contact and I love to use my hands and be physical with people."
On the recruiting front, Daigbe is a virtual embroyo in the process, as he's just started to pop up on radars, but he said several schools have told him they like what he brings to the table.
"I talked to the Boise State coaches and Washington State has been in contact with me and they said they liked what I did (at the Northwest Elite Camp)," Daigbe said. "Oregon State also told me they like me a lot too and Eastern Washington invited me to their camp that is on July 25th, so I am going to go over to that and see how I do."
At 6'0 tall and weighing in at 183 pounds, Daigbe is a budding star as a recruit in the state of Washington. With his size, athleticism and physical nature, he could wind up being a star at several positions on the football field.
He's definitely a player to keep an eye on in the coming weeks and months and over the next couple of years, we here at NEI expect Daigbe to be one of the recruits who will draw a lot of attention before he graduates from Kent Meridian.