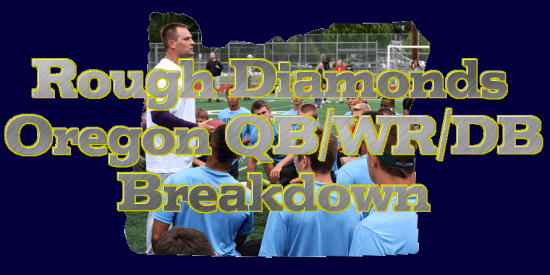 This is part five of the MVP's and breakdown for the Rough Diamonds NW College Showcase. Earlier we showed the Specialists Breakdown , followed by the Lineman Breakdown . The RB/TE/LB Breakdown was combined into one write-up as part three of this series.
The final session of the 2014 Rough Diamonds NW College Showcase event featured some of the Northwest's top talent, on one field, in front of various coaches from D1 to NAIA, and ended with a few athletes receiving offers.
These are the Oregon, SW Washington (primarily GSHL), and Canadian participants. The link to the Washington breakdown from this session can be found Right Here .
Quarterbacks
Overall Session MVP
Eric Dungey – Lakeridge
Sam Noyer – Beaverton
Upperclassmen MVP
Troy Fowler – North Medford
Underclassmen MVP
Trever Watson – Springfield
Chase Warren – North Medford
Breakout Performer
Blake Walker – Liberty
Sam Davis – Grant
Eric Dungey ('15) continued his off season tear, all the more solidifying himself as one of the top QB's in the western region. Dungey added offers from Nevada and Wyoming after the showcase giving him 14 in all. Oregon's top ranked quarterback is a phenomenal overall athlete and someone that we can expect to shine at the D1 level.
Sam Noyer was the other overall MVP representing the 2016 class. He is an unquestioned Pac 12 type QB, and a kid that projects as one of the top quarterbacks nationally with continued progression. Noyer is a legit 6-4 and had national media and D1 coaches alike talking about his game.
Two conference players of the year also represented well, earning significant recognition, in Trever Watson ('16) and Troy Fowler ('15). MWL POY Watson is 5-11 but physically gifted, accounting for 46 TD's & 3 INT's in 2013. His reads on the field emulate his 4.0 GPA as he is one of the top players in Oregon. SWC Player of the Year Fowler has been on a whirlwind tour this off season, after winning the OSAA State baseball title. He will lead a state title contending Black Tornado team into the season, after going for 34 TD's and 5 INT's last year.
Chase Warren looked outstanding as he could be one of the top 2017 QB's in the region. Warren was deserving of MVP underclassmen honors and looks incredibly smooth for such a young quarterback.
Blake Walker ('16) and Sam Davis ('15) had breakout performances as each of them rank among the state's top QB's for their class. Walker is a 6-4 Junior to be that earned 2nd team all league honors last season. He is one of the fastest rising quarterbacks in the 2016 class. Davis just continues to get the job done and drop dimes during our workouts. He will be a PIL Player of the Year candidate.
JT Greenough ('15 Tigard), Trey Ecker ('15 Philomath), and Peyton King ('15 Southridge) are ranked among the state's best and will lead their respective teams this season. Greenough will get his shot to lead a very talented Tiger team as he can sling it, while King is all of 6-5 and had a very good off season. Ecker will be a player of the year candidate at the 4A level and could play football or basketball collegiately.
Spencer Barnett ('15 Sandy) returns after earning all league honors for an improving Pioneers squad. Gabe Evenson ('15 Columbia River, Wash.) will get his opportunity to lead the Chieftains as they have the potential to make a run, and last but not least Xavier Smith ('16 Reynolds) who will have to step up for the Raiders as they lose a talented senior class.
Wide Receiver
Overall Session MVP
Keegen Hlad – West Salem
Anthony Adams – Newberg
Upperclassmen MVP
Jesse Walker – Mission Secondary (BC)
Nathan Hawthorne – Columbia River (Wash.)
Dylan Morgan – Crater
Underclassmen MVP
Cody Coppedge – West Linn
Bryce Bumgardner – St. Helens
Breakout Performer
Chris Lewis – Grant
Bryon Greenlee – Liberty
Oregon's top ranked WR had a big day as Keegen Hlad ('15) reemphasized why he will be a D1 kid. Multiple Big Sky universities have him at the top of their boards and the showcase confirmed what most had thought.
Anthony Adams ('17) earned the other overall MVP award as one mid major D1 said it well adding, "the kids just smooth". Anthony is the other top ranked athlete state wide for the 2017 class, opposite Elijah Molden who was just offered by Oregon.
Jesse Walker ('15) didn't disappoint showing why he is considered one of the top players in Canada for his class. His overall size and speed were impressive and confirmed that his 26 touchdown performance from 2013 was legit. Another kid that had a big day was the returning conference player of the year in football and basketball, Nathan Hawthorne ('15) of the GSHL. Hawthorne looks at the top of his game, showing off outstanding quicks from his receiver spot.
One of the players of the day and kid you will hear much more from is Cody Coppedge ('16) of the TRL. He will be ranked one of the top receivers in the state for his class after earning 1st team all league honors as a sophomore. Coppedge is pushing 6-4 and runs some of the nicest routes in the Northwest.
Chris Lewis ('15) followed up an outstanding weekend breaking off countless DB's. You can expect Lewis to be one of the top slots in Oregon as his stock continues to rise. Bryon Greenlee was ('15) was the other "breakout performer" on the day, as the 6-3 standout showed why he was a 1st team all league athlete in 2013 on both sides of the football. Greenlee had a nice day at receiver, but could project at DB as big corner's are highly sought after.
Three other WR's that are ranked among the state's best include Dylan Morgan ('15), Tyler Delashmutt ('15 Newberg), and Stephen Marcille ('15 Beaverton). Morgan went off as a junior going for double digit TD's. He has D1 genes and continues to be one of the fastest rising receivers in Oregon.
Delashmutt was a standout as part of Barton Football's Vegas 7 on 7 squad, getting better each month. He looked great at the showcase and will return as a dual threat all conference athlete for the Tigers. Marcille is a kid that could very well have a breakout year offensively with Noyer getting him the rock. He is extremely tough to guard in space and projects as one of the top slots state wide.
Jacob Bystry ('15 Columbia River, Wash.) earned 2nd team all league honors as a junior and looked as good as we have ever seen him. He has grown and gotten more physical and will come back a prime target for a Chieftain team that could be tough to handle.
Bryce Bumgardner ('16 St. Helens) will be ranked one of our top athletes in Oregon for 2016, as you can expect to hear a great deal from him and the Lions moving forward. Bryce will be a top offensive threat within the NWOC, and also returns after tying for the state lead in INT's among sophomores (4).
Jack Cole ('15 Lakeridge) had a good day and is a kid that could have a big year offensively from his WR spot. He has legit size, D1 genes and the top QB in the state getting him the ball. Jacob Spadafora ('15 Tigard) continues to have an outstanding off season. He made a name for himself this winter at our elite events and in my opinion is one of the most underrated kids in the NW.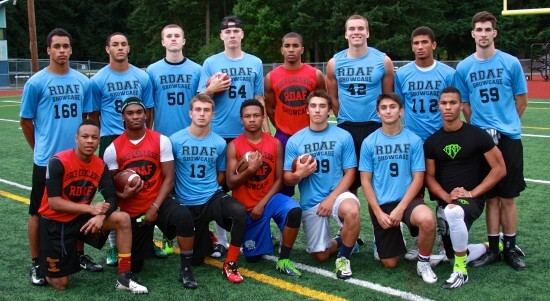 Defensive Back
Overall Session MVP
Jerrin Williams – Evergreen (Wash.)
Sam Inos – Tigard
Chris Adamo – Mountain View
Upperclassmen MVP
Derek Parnell – Southridge
Tristen Holmes – North Medford
JT Valenzuela – West Albany
Saadiq Calhoun – Central Catholic
Joey Roos – West Albany
Underclassmen MVP
Devin Shook – Crater
Breakout Performer
Da'Marea Stigler – Grant
Devon Rawles – Crescent Valley
As you can see each defensive back received an MVP award. This was one of the most well rounded positional groups ever to participate at an event. There was not a weak link and each kid is deserving.
Jerrin Williams ('15) put himself at the top of multiple D1 recruiting boards, picking off 4 passes, while guarding the likes of nationally ranked athlete Chico McClatcher. He recently made the transfer from North Salem and will be one of Washington's top DB's.
Chris Adamo ('15) has been lights out all off season and will be ranked one of the top corners in the state when the new rankings are released shortly. His ability to swivel and make moves from his DB position are extremely unique. He is the poster boy for a lock down corner.
Sam Inos ('15) and Tristen Holmes ('15) are ranked the top two DB's in Oregon with Inos already holding 2 D1 offers. Sam is a kid that just plays different once the pads are on. He is fast, physical, and one of the top athletes in the western region. Holmes is similar in that he is always at the right place. He is one of the more mellow superstars that you will ever see, which is refreshing to an extent as the kid let's his play do the talking.
Derek Parnell ('15) had as good a day as any athlete on the field. He broke up multiple passes and picked off a couple balls to boot. The Skyhawks will need him to do a little of everything this season.
1st team all state safeties JT Valenzuela ('15) and Joey Roos ('15) both had nice showcase event's with Valenzuela continuing to maneuver his body and make some extremely difficult plays. JT was the defensive MVP in Vegas and should be considered one of Oregon's top 2 Free Safety's. Joey had just returned from USC's camp and helped his cause by locking up some of the Northwest's top receivers.
Saadiq Calhoun ('15) is another one of the state's top ranked corners, having a phenomenal off season thus far and MVPing multiple events. He will be ranked one of the state's top CB's.
Da'Marea Stigler ('15) came out this winter to our events and has only gotten better. You will see him be a featured athlete for the Generals this season. Devon Rawles (15′ Crescent Valley) was one of the surprise defensive players of the Showcase, going toe to toe with the top ranked kids.
Last but not least was Devin Shook ('17). The youngster out of Southern Oregon is a camp guru. He had an impressive event, but recently broke his hip as part of Team USA. He will back and even better.