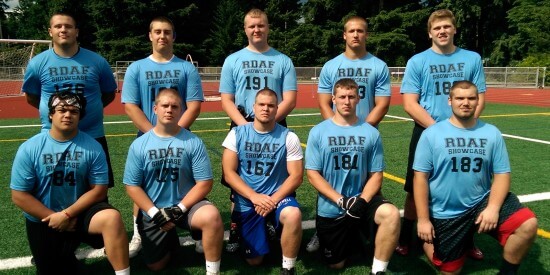 Over the next few days we will be breaking down the positional and overall MVP's from the Rough Diamonds College Showcase. We will also be listing athletes that stood out and/or had a good showing. The Lineman session, along with the RB/TE/LB session will combine both Washington and Oregon, while the QB/WR/DB session will feature a breakdown for each state. Be sure to check back to see which athletes stood out.
Overall Upperclass MVP
TJ Salu – Central Catholic (Ore.)
Overall Underclass MVP
Connor Crist – Tigard (Ore.)
Upperclass Offensive Line MVP
Alex Neale – Eastside Catholic (Wash.)
Underclass Offensive Line MVP
Josh Watson – Cascade (Wash.)
Upperclass Defensive Line MVP
Mason Bradley – Archbishop Murphy (Wash.)
Underclass Defensive Line MVP
Benicio Madigral-Ries – Arlington (Wash.)
Offensive Breakout Performer
Christopher Mitchell – Mountain View (Wash.)
Defensive Breakout Performer
Bryce Vitcovich – Marysville Pilchuck (Wash.)
The overall MVP's were the only selections that were near unanimous, but overall, this session was solid from top to bottom. TJ Salu ('15) and Connor Crist ('16) were the two most dominant athletes during the lineman session. Salu worked out on both sides of the ball, and was tremendous on either side, but his work on the defensive side is extra special. His first step is as fast as I've seen, and his motor only knows full power. Crist is a lot of fun to watch. He has an extremely powerful punch that stops most oncoming rushers in their spot.
Picking up offensive line MVP's were Alex Neale ('15) and Josh Watson ('16). Even though we all know who he is, Alex Neale could've been considered a breakout performer as well, as he spent a lot of time outside playing tackle, where he hasn't shown in past camps. Neale looked great at any of the five positions, and really wowed the coaches in attendance. Watson is still a bit of a project, but he had a tremendous day. With good size (6'4″ 260), and a great work ethic, Watson is a player we fully expect to be highly ranked when all is said and done.
Defensive line MVP's didn't require a whole of debate from the crew, as Mason Bradley ('15) and Benicio Madigral-Ries ('16) stood out above the rest. Bradley is listedat 6'4″ and 240 lbs, and was hands down the best true DL of the day. Didn't matter where he lined up or who it was against in one-on-ones, he came away winning most battles. He was a standout during the positional drills. Madigral-Ries is another interior pass-rusher with a motor. Beni has the potential to be a prototypical nose guard if he adds a few pounds and lives in the weight room. He is very athletic for his size, and that type of quickness on the inside can give offensive linemen fits, as it did much of the day.
The breakout performer is an award handed out not only for an athlete breaking out onto the scene as a relative unknown, but someone doing things we didn't initially think he had in him. Bryce Vitcovich ('15) and Christopher Mitchell ('16) are both well deserving of the recognition. Vitcovich came hard off the edge all day, and showed he deserves to be ranked among the state's best in the 2015 class. Mitchell is still young, heading into his junior season, but showed he is capable of playing just about anywhere along the line, and he may be the state's top interior lineman in 2016.
If there is a true "snub" on this list, I would have to pick Dario Haynes ('15) of North Thurston (Lacey, Wash). Haynes was an unknown coming into the day, but put himself on the radar of every college in attendance. He has a great frame, good get-off and one of the best motors I have seen thus far. He will be highly ranked before all is said and done.
Two other defensive lineman that could've received breakout performer awards were Jordan Barker ('15) from Bothell and Sean Renfro Jr. ('16) of Lakewood. Barker was impressive, had a good get-off and motor. He did very well in one on ones as an interior pass rusher. Renfro was definitely a surprise performer. The college coaches absolutely loved him during positional drill work. He moves well for his size and is a extremely fundamentally-sound defensive lineman.
On the offensive line, two standouts for the day that could've very well receiver honors were Christopher Schlichting ('15 Mount Si) and Aaron Turner ('15 Gresham, Ore). Schlichting continues to rise this offseason, after picking up an offer from Montana recently, he appears to be on the cusp of a few others, as teams project him as one of the state's top guards. Turner has the long athletic frame you like at the tackle position. With added bulk and continuing to work, Turner is considered to be one of Oregon's fastest risers.
An intriguing prospect in the 2016 class is Michael Clausen of Tahoma (Maple Valley, Wash). Clausen will be a 3-4 outside backer type most likely at the next level, but worked with the DL group Sunday because that's what he plays at Tahoma. Clausen is quick off the ball, and did not shy away from competition during one on ones. Notably, he was the first in line for every drill, a reflection of his work ethic and tenacity.
In the 2015 class, Andrew Monlux of Kingston (Wash.) is also an intriguing prospect. Andrew is a player we have seen a few times this spring and he has improved each time. He had a better showing during one-on-ones this go around, and did very well during individual work. He showed a good combination of size, strength and speed.
A name you will absolutely want to keep an eye on is Brody McKnight ('17) of Eastside Catholic (Sammamish, Wash). McKnight fits the same mold of his Crusader teammate Alex Neale. He is athletic, has great technique and a work ethic that is second to none. Watching him, and his game, grow over the next few years will be a lot of fun.