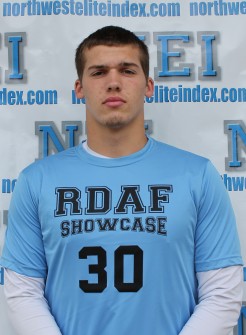 On a loaded Bothell squad, one player that stands out between the hashes is LB Shawn Munro and, so far this summer, he's been one of the standouts on the camp circuit, showing why he was an All-Kingco slection as a junior and he told Northwest Elite Index recently that he and his team are focused on one thing — winning the 4A State title…
"We think we have what it takes to go undefeated and that's where our focus is right now," Munro told NEI at the Rough Diamonds Showcase on Sunday. "We know we have tough competition in the Kingco, it's the best league in the state, but we are confident in our abilities and the talent we have, but we have to prepare this offseason for what we have ahead of us."
That includes weightlifting sessions early in the morning five days a week and also making sure the scout team players are improving every day as well.
"We lift all the time together and we're forming that team bond," Munro noted. "It's not just the starters either. We are making sure the yellow hats (the scout team) are also getting better because they push us and those guys are young and will be guys that need to keep things going once we leave."
Playing in the middle for the Cougars, Munro, measuring in at 6'1″ and weighing 210 pounds, is a hard-hitting, instinctual linebacker with enough athleticism to get down the field and cover tight ends or backs.
"I'm faster than most linebackers, so that helps me make plays and I have good feet," Munro said. "Most coaches I talk to think I should be playing safety, not linebacker, but I love the contact and the physical nature of playing linebacker. I have fun with it."
On the recruiting front, things have been tepid so far, but that could and should improve in the coming months as more schools get a look at his first few games as a senior.
"I didn't do a lot of camps, but I did got the Northwest Elite Camp (at Starfire on June 6th) and then (the Rough Diamonds Showcase)," Munro added. "I've talked to Portland State and Cal and I took visits to both of those schools. They like me, but they haven't offered yet."
At the Rough Diamonds Showcase, Munro showed why he is an underrated defensive prospect as he was able to blanket tight ends and running backs down the field, knocking away several passes in one-on-one and combination route competition. He's got the frame to put on another 10 to 15 pounds pretty easily and with his footwork, instincts and ball skills, he should see his stock rise as more schools get a look at his improvements this fall.