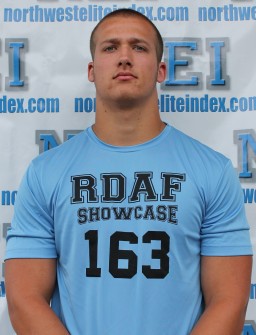 He made the move from the Kitsap Peninsula to Everett and he transferred from one of the largest football programs in the state to a 2A program, so Archbishop Murphy DE/LB Mason Bradley is just now starting to pop up on recruiting radars.
"My dad moved for his work and I moved over with him," Bradley told Northwest Elite Index. "I was at South Kitsap (Port Orchard, Wa.) and when I got over here, I decided to go to Archbishop Murphy and that's where I will play this fall."
Measuring in at 6'4″ and weighing 240 pounds, Bradley is a specimen with the frame to easily add another 20 to 30 pounds before it's all said and done.
"They will sorta use me as their Stud Linebacker and I'll move around a lot," Bradley said. "I've played in the middle and outside and some as a defensive end, so I can do whatever the coaches need me to do."
At the Rough Diamonds Showcase held at Interlake High School this past weekend, Bradley was one of the standouts during the linemen drills and one-on-ones. He used his speed and agility to get around blockers, and a quick first step and strong upper body to rip through would-be blocks.
"I can play either as a stand-up pass-rusher or with my hand on the ground, my coaches let me do whatever I feel comfortable with, but I'm probably more of a 'hand on the ground' guy in a three or four-point stance," Bradley noted.
On the recruiting front, Bradley has been talking with several schools including Washington, Idaho, Washington State, Portland State, Montana, Montana State and Wyoming, but he has yet to pull in any offers.
"Because of my move and stuff, I didn't really have a chance to go to camps and stuff like that," Bradley said. "I went to the Northwest Elite Camp (at Starfire in Renton) and then this even here (Rough Diamonds). I was supposed to go to Washington's Rising Stars camp, but something came up and I couldn't go."
At the 2A level, Bradley should wind up being a real force for the Wildcats, given his size, speed and athleticism. It will be interesting to watch his development and recruitment over the next eight months, but make no mistake, he's got all of the tools to be a real steal for the coaching staff that winds up signing him.