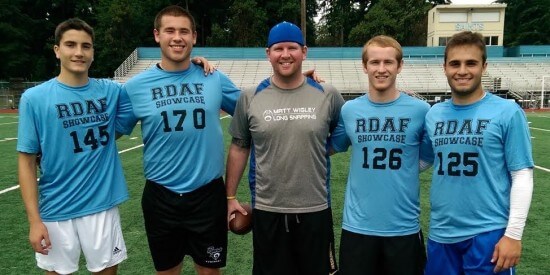 2014 Summer Showcase was filled with talent. The special teams group was one to remember as the top specialists showed up to perform! Many college coaches were on hand to see these specialists perform live and prove why they are known as some of the best in the country.
2015 Kicker Matt Philichi from Bellarmine Prep had a phenomenal day in all phases who is currently ranked 12th in the country. He showed great leg strength on field goals with tremendous accuracy. He didn't slow down with kickoffs as he has the ability to hit the long ball with great hang time! The one thing that opened up for him was his punting skills as that is something he has picked up very well over the last year and showed some great consistency with distance/hang time. Philichi is ready for the next level.
2015 Kicker Spencer Pettit from Glacier Peak HS who is ranked 6th in the country was a machine Sunday morning! He had a ton of explosion and demonstrated that he can hit the long ball with field goals and kickoffs. Another kicker who showed promise as a punter as well! This kid is the real deal and is ready for the next level.
2016 Kicker Andre Slyter from Kentwood HS has pure raw talent and I loved what I saw from him Sunday morning. When he made perfect contact with the ball, it was shocking to see what he can do. He has the ability to hit the long ball in all phases and I am excited to see how he develops over the next year. He could grow into be a HUGE prospect for 2016. One to watch.
2015 Long Snapper Michael Cole from North Thurston HS had a phenomenal day! Standing at 6'4″ 250lbs, Cole demonstrated that he will be a true asset at the college level. He showed tremendous accuracy on both punts and field goals with great footwork for blocking. Cole is also plays Center/Tackle and Defensive Line for North Thurston and one to really watch as he has put on 40lbs over the last year and looks fantastic! With his size and ability to long snap, he will be one to watch this 2014 year!
Any questions about Specialist on the North West, please contact Barton Football Academy Special Teams Coach Matt Wigley for more information.
Coach Wigley will be holding multiple group and private training sessions each week in Washington for those who are looking to enhance their special teams skills!
Matt Wigley
Barton Football Academy Special Teams Coach
(209)598-5785
Wigley.Matt@yahoo.com