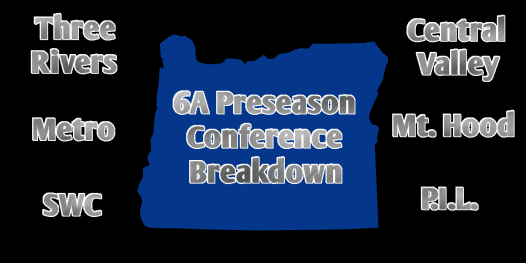 Below you will see a very early version of our preseason 6A top 10 for the State of Oregon, with analysis of each conference. This will be updated prior to the year with a more in depth look of each team and their roster. The Oregon Live crew does a phenomenal job with their HS coverage and we always look forward to voting in their 6A/5A poll during the season.
#1-50 Analysis Below
1. Central Catholic
2. Tigard
3. Jesuit
4. North Medford
5. Oregon City
6. Lake Oswego
7. Grants Pass
8. West Salem
9. Sheldon
10.Sherwood
11.Lakeridge
12.Canby
13.Beaverton
14.Sprague
15.Roseburg
16.West Linn
17.Westview
18.West Albany
19.Grant
20.Newberg
21.Sunset
22.Clackamas
23.McNary
24.Roosevelt
25.Gresham
26.Lincoln
27.Southridge
28.Tualatin
29.Forest Grove
30.South Medford
31.Thurston
32.Wilson
33.Aloha
34.Centennial
35.Mcminnville
36.Glencoe
37.Century
38.South Salem
39.David Douglas
40.Barlow
41.Willamette
42.Mckay
43.Reynolds
44.Jefferson
45.Franklin
46.South Eugene
47.Cleveland
48.Madison
49.North Salem
50.Benson
** The Conference Power Rankings are computed by adding each teams individual state rank within each league. For example, the TRL has eight teams with a combined total of 105 when referencing where they placed on the 6A (#1-50) board. You are able to take that total and divide it by the # of teams in each conference, giving you in this case a ranking of (13.125). The lower the total, the higher the ranking your conference has.
Have a look at where each team is projected to place within their conference. Just to reiterate there will be changes before the start of the season when the final preseason poll is released.
CONFERENCE/STATE POWER RANKINGS
Three Rivers 13.125
SWC 22.875
Metro 23.375
Mt Hood 26.125
Cent Valley 28.4
PIL 37.2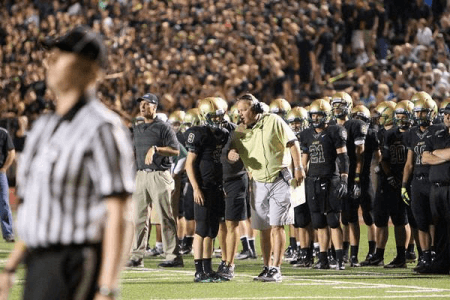 METRO
1. Jesuit – The Crusaders started 7 sophomores in last years state title game, and will have two way threat Chase Morrison returning after going for over 2000 yards and 30 Td's in 2013. The one question mark will be on the line where they return all state lineman Nick Miller, but are without their traditional 6-5 big's.
2. Beaverton – This will be the Beavers best team in some time but they haven't been able to make a playoff run since the departure of Faustin Riley. Junior Sam Noyer is a D1 QB , and he has talent all around him with 6-7 275 OL/DL Jared Hilbers holding 10 D1 offers before committing to Washington.
3. Westview – The kids out of Rock Creek should challenge for the Metro #2 spot, with QB Austin Brisbee returning after earning Co Metro Player of the Year honors in 2013. They will also feature the state's top TE duo in 6-5 Teagan Lind and 6-3 Ian Myers
4. Sunset – The Apollos lose a lot from last season but return one of the NW's top QB's in Willy Pflug, who currently holds multiple D1 offers. He will have to remain healthy and rely on some of the young talent to step up such as 2nd team all league Jr RB/S Caden Carter.
5. Southridge – Not really sure what to say here. The Hawks graduated 34 seniors and have lost the services of two of the state's top players, including Oregon's #1 ranked LB Pepe Tanuvasa. Talented WR/DE Nikko Thomas also made the transfer to Tigard. The Hawks will rely heavily on all everything athlete Derek Parnell and 6-5 QB Peyton King.
6. Aloha – Let's just say this isn't 2010. Get used to the name Parker Bull cause the junior is one of the top 2016 athletes in the state. He will be the key for Aloha to remain competitive.
7. Glencoe – The Crimson Tide could have a tough time moving over to the Metro but they have tradition on their side.
8. Century – Coach Bill Smith is an outstanding leader but the Jags will have tough time in the Metro League.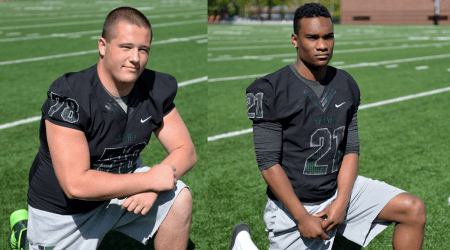 THREE RIVERS
1. Tigard – Probably the state's most well run program from the youth on up. The Tigers are loaded and the trend will continue in the coming seasons. The state's top two ranked Junior offensive lineman, Connor Crist 6-4 285 and Derek McMurray 6-7 340, will team with Senior Kevin Henderson 6-0 310 and two other junior's on the line. Sam Inos is the state's top athlete and has multiple D1 offers while 6-1 200 RB Landon Floyd could have a monster year. The transfer of Oregon's top LB Pepe Tanuvasa will help sure up the D on an already stacked group.
2. Lake Oswego – Mitch Verburg will be one of the state's top ranked QB's for 2016 and the Lakers will once again be good. Coach Steve Coury does things the right way and has a core group of talent that is still better then most.
3. Sherwood – Everyone is stoked to see how the Bowmen will do at the 6a level. Nothing will be easy as they will enter the state's toughest conference. Look for LB/TE Zak Taylor to be one of the state's top Senior's, with Mason Rivers and Andrew Ripley-Miles carrying the load at RB. Jakob Eisenbeiss will be one of Oregon's best for 2016.
4. Lakeridge – Eric Dungey is the real deal and the top ranked QB for 2015. He has double digit offers, but the Pacers lose a lot of talent and will be thin up front. The debacle that is the coaching situation will be an interesting test for the school.
5. Canby – The Cougars made a run to the state semi's beating 2012 state champion Sheldon in the quarterfinals last year. They graduate a senior line that averaged 6-3 275 across the board, but will return 1st team all league Junior DE Tony Kraus who comes off the ball like a young Connor Humphreys.
6. West Linn – The Chris Miller era begins on what will be a good Lions team. Elijah Molden will be one of the top players in the country for his class, and Cody Coppedge is one of the state's top 2 Junior WR's, earning 1st team all league honors in 2013. It may take a year or two but West Linn will be one of the state's best.
7. Newberg – One of the fastest rising teams in the state. The #7 ranking is deceiving as the TRL is ridiculously tough. Anthony Adams will have double digit D1 offers before he is done and is the other top athlete for the 2017 class. The Tigers could be one of the best in Oregon in the coming years
8. Tualatin – It strange to see the T Wolves in the 8 spot but the transition to the Three Rivers comes at a tough time as numbers have dropped. It is a tradition rich school that is not your typical last place team.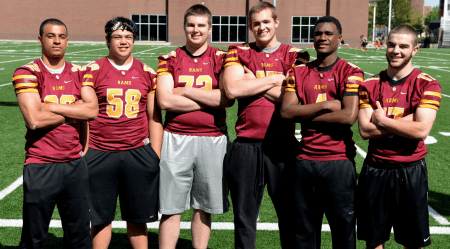 MT HOOD
1. Central Catholic – The Rams finished ranked the #22 team in the country last season (USA Today) winning the 6A state title. They return one of the most talented teams in Oregon history with double digit D1 kids. Cam Scarlett 6-1 205 is one of the top players in the nation being offered by the entire Pac 12 and schools such as Notre Dame. Ronnie Rust was a sophomore All American and fellow 2016's Brady Breeze and Lamar Winston will be some of the most recruited athletes nationally in their class. It is one of the most well balanced teams the region has ever seen with a Division 1 line to boot (Blake Brandel 6-7 250, Riley Gallant 6-6 285, TJ Salu 6-2 280).
2. Oregon City – New coach Randy Nyquist won last years 5A state title at West Albany and he will inherit a potential state title contender in the coming seasons. The 2016 class is special with 1st team all league kids Trevon Bradford, Conner Mitchell, and Kiahve Dennis-Lee all being future player of the year candidates.
3. Clackamas – The Cavs lose one of the most talented senior classes in school history, but return 8 starters on the defensive side of the ball. 1st team all league Free Safety Hayden Kirsch will have to play a big role offensively as well.
4. Gresham – The Gophers go 6-6, 6-6, 6-5 on the offensive front and return a host of talented skill kids. 1st team all league WR/OLB Maleko Arango will play a big role. They have the potential to be good.
5. Centennial – Dezmond Stoudamire (DB/ATH) and Mycal Knight (OL/DL) will have to step up big as the Eagles graduate a decent senior class. Anouson Keobounnam (6-3 285 OL/DL) is one of the top 2016 Oregon lineman.
6. Barlow – The Bruins had a rough season in 2013 and will have to have some guys step up. Will Allen is one of the top three D lineman in the state, and will have to have a big year again offensively.
7. David Douglas – The Scots have a very talented younger group of athletes led by all conference Junior DE Osa Odighizuwa, the brother of talented nationally ranked DE/OLB Owa of UCLA.
8. Reynolds – It could be tough for the Raiders as they graduate one of their best senior classes in some time. Slot/CB Kanyon Flynn led the state in INT's.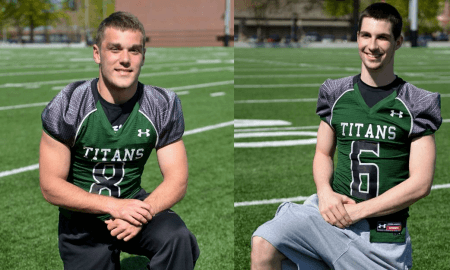 CENTRAL VALLEY
1. West Salem – The Titans have an extremely talented group returning with a D1 QB/WR combo in Cade Smith and Keegen Hlad. 6-5 235 pound Jr. DE/TE Jacob Kizer will be one of the top recruits in the NW for 2016. Coach Stanley has the size on his line and the skill kids to make a serious run this season. Jr RB Gary Garvin and DL Lisala Manu 6-2 245 return after 1st team all league seasons and 2016 T Markus John (6-2 290) is legit. Last year's playoff loss to Glencoe was disappointing, but the potential is there for this to be the best Titan team ever.
2. Sprague – The Oly's lose CVC POY Thomas Harris who went for 2200 yds and 25 TD's, but return a host of talented kids including conference defensive POY Matt Kleinman. 6-4 QB Austin Brown will step in with (6-7 285) D1 T Levi Long leading a talented but young line. It will be tough to beat West two years in a row.
3. West Albany – The 5A state champions make the jump to 6A with 1st team all state safeties returning in JT Valenzuela and Joey Roos. The loss of long time coach Randy Nyquist and Oregon Gatorade Player of the Year Jake Lacoste present the biggest challenges.
4. Mcnary – The Celts bring back a bunch of talent but lose 1st team all league athletes Garrett Hittner and Brett Hildebrand. Coach Isaac Parker is a players coach and they have the guys to make a run.
5. Forest Grove – 6-5 1st team all league QB Taylor Jensen (2900 Yds, 20 TD's) returns as one of the top quarterback's in Oregon for 2016. He comes from a football family as the son of the head coach, and is leading one of the best Viking classes ever.
6. McMinnville – Coach Robin Hill was a big hire for the Grizz, but they don't bring back a ton of experience. Senior athletes Zack Silver and Taylor Scanlon will have to go both ways and stay healthy.
7. South Salem – You never know with the Saxons. Junior to be Gabe Matthews is a good looking athlete but they lose some talented skill kids from the last couple seasons.
8. Mckay – It has been tough at Mckay but Coach Koberstein has done a good job and has some players. It will be interesting to see if they can put it together after a (1-9) season.
9. North Salem – The Vikings lose two time all CVC QB Jerrin Williams who has transferred to Evergreen HS of Washington. It will be tough for the kids to compete without him.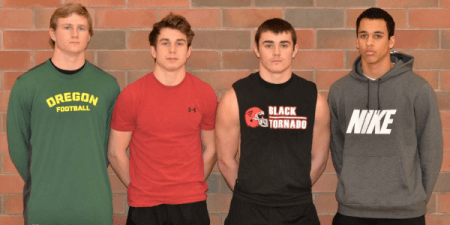 SWC
1. North Medford – The Black Tornado are coming off a magical turnaround season where they finished 10-2 winning the SWC, after going 2-18 the previous two seasons. North returns almost the entire team with the 2015 class being maybe the top group to ever come out of the school. QB Troy Fowler is back as the SWC Player of the year and DB/ATH Tristen Holmes is one of the top 2 defensive back recruits in the state. Jared Evans (WR) and Nick Janakes (RB) are two other 1st team all league returners that will help sure up what is one of the top perimeters in the Northwest.
2. Grants Pass – Don't sleep on GP as the Caveman are legit. All league QB/RB tandem Javan Appling and Zach Hannan return, along with all everything junior to be Easton Bents (6-2 205 S/LB/ATH). The Cavemen have multiple all conference kids returning on the line and at the skill positions, after almost beating North last season. They have a chance to return to the days of old.
3. Sheldon – The traditional power will be very young. Kellen Strahm is back after earning 1st team all league honors on both sides of the ball. Lane and Marty Johnson run one of the most successful and classy programs anywhere in the country, but this will be the first year they don't have a top 5 class state wide in awhile.
4. Roseburg – The Indians return an all league offensive line that will help keep the focus on the ground game. Coach Bell always finds a way to keep his guys relevant.
5. South Medford – The loss of Brady Breeze hurts as he was going to be the teams top offensive and defensive player. That said South will have 6-4 QB Craig Contreras and 2nd team all league back Josh Hall carrying the rock. Coach Singler is one of the state's best and he will make do.
6. Thurston – The Colts have some talented underclassmen but they might be a year away. Justin Starck seems to keep his guys competitive regardless and 6-6 185 Junior Robert Connor could be one of Oregon's top 2016 WR's.
7. Willamette – Samuel Aguirre and Darius Jackson Could help the Wolverines stay in a few ball games, but this could be a brutal season if the 5A level was challenging
8. South Eugene – Coach Chris Miller has moved to West Linn and South just isn't a football school. It will be tough.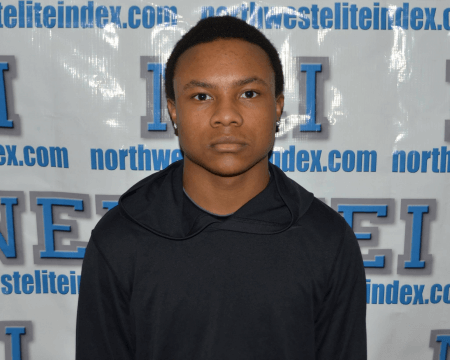 P.I.L.
1. Grant – Head coach Diallo Lewis has himself a nice senior group led by 3 year all league starter Sam Davis at QB. The Penn brothers will be a factor (Dangelo & Dominique) on D and Chris Lewis is one of the fastest rising players in Oregon. It will be much different playing a PIL schedule although they do open with Tigard and Sherwood. RB Jovon Lewis could be one of the breakout players of the year state wide.
2. Roosevelt – Coach Swain helped the Roughriders to their first PIL title in 20 years in 2013, but do lose D1 D tackles Sione Taumoe' anga and Semise Kofe to graduation, along with all state two way threat James Buchanan. Reigning PIL Player of the Year and BYU commit Kimane Domena will have his work cut out for him with the dismissal of Billy Nelson. Junior RB Marquis Johnson is the real deal and will get his shot this year.
3. Lincoln – The Cardinals have moved to the Wing T which will be a big transition for a school that used to air it out consistently. Nate Ostmo is A D1 baseball player that will play QB with a host of other kids getting in the mix.
4. Wilson – The Trojans had a decent season behind 2016 RB Sam Katter who filled in for POY candidate Tyler Lunceford, after he went down with an injury. 1st team all league DE/LB Jackson Davis returns after an outstanding 2013 campaign and should be one of the better players in the PIL.
5. Franklin – The Quakers graduate 6 all league senior's but have some talented younger kids. Coach Lex has #'s but they have struggled to get playoff relevant
6. Jefferson – The Demo's return 4 all league kids that will be featured in 2014, which include the likes of 1st team all league lineman Larry Brister and DB Ray Crain. Jeff finished (5-5) after a horrendous 2012 campaign.
7. Madison – It's been tough for the Portland school as they finished (2-7) last season. The transfer of 1st team all league 2016 athlete Michael Waters to Grant hurts.
8. Cleveland – The kids out of Southeast have never been a football power and not much has changed. Jonathan Weaver will return as a 3 year starter after earning 2nd team all league honors in 2013.
9. Benson – The Techman finished (1-8) last season, but made improvements from the previous years, staying in most ball games.