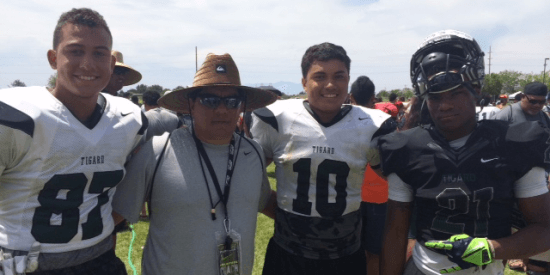 One of the Northwest's top linebacker's for the 2015 class, Pepe Tanuvasa (6-1 220), has had a busy June. His transfer is now complete as the 2nd team All Metro LB from Southridge is officially a Tigard Tiger.
Tanuvasa comes back ranked the #1 senior backer in the state, putting on a show this past weekend in Utah. Anyone that has been to the All Poly camp will tell you that it's the place to be. D1 kids litter the field as it's an opportunity for the best of the best to separate themselves.
Most of the top universities nationwide are in attendance and Pepe didn't disappoint. He was one of six LB's that earned MVP accolades among 90 linebackers. It was a performance that garnered him significant recognition and his first division 1 offer.
Virginia Union is a new D1aa school that liked what they saw and extended the scholarship. This came after very impressive performances the previous week in front of Utah St and some Big Sky Schools. Oregon St had him out for a workout on Tuesday and he is currently getting ready for a big Montana State camp this Friday.
Tanuvasa has D1 genes with his father starting at LB for Hawaii back in the day. He will be a featured kid at the RDAF College Showcase event this Sunday in Seattle, and has a legit shot of racking up some additional offers in the near future.
Pepe will join a loaded Tigard squad that will most likely be ranked #2 in our 6A poll to start the season. He has embraced the transfer and couldn't be happier with the decision. We wish the talented backer continued success as he is an even better kid than athlete.