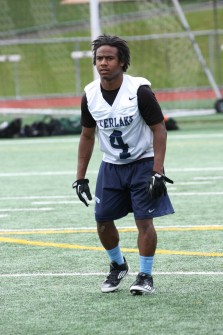 Interlake (Bellevue, Wa.) RB DeJhion Parrish doesn't have the biggest body, but there's no denying the big heart he plays with. In just six games as a junior this past fall, the talented tailback rushed for over 800 yards and he hopes to help lead his teams to the post-season with an even better senior campaign.
"I started the Mercer Island game which was our fifth game and then for the rest of the season," Parrish told Northwest Elite Index recently. "I felt I did as well as I could with the late start and all that, but I felt I could do much better and that's what I'm focused on for this season.
"We want to get to the playoffs and show people we are a team contend with and a lot of that will be accomplished this summer as we get ready for the season with the coaches and lifting and stuff like that."
As a junior, Parrish used his 5'5″, 160-pound frame to rush for 819 yards and six scores, doing most of his damage between the tackles.
"I do most of my work inside," Parrish admitted. "It isn't like I can't get outside and make plays on the edge, but with my cuts, I'm explosive and I can make guys miss when I get to that second level. I don't shake much because you don't really go anywhere when you do that, so I just explode in and out of my cuts and that helps me to get get separation and make things harder on the defense."
It's very probable that a big reason Parrish hasn't gotten much in way of recruiting interest is because of his size, but when you watch his film, he's got a powerful lower-body and the ability to explode into opposing tacklers and his low center-of-gravity allows him to make guys miss in the open field.
With that being said, schools like Eastern Washington, Idaho State, Air Force and Oregon State have all shown a lot of interest in him and he's already hit camps at Washington, Oregon (Nike NFTC) and Eastern Washington.
"I'm just looking for someone to offer me and give me a chance to show what I can do," Parrish noted. "I love playing football and competing. I have a lot of fun and if someone gives me a shot, I won't disappoint them."
Parrish, along with Juanita's Austin Cole, is one of the favorites to win the Kingco 3A rushing title this fall and with his heart and determination, he could really turn some heads with a big senior season.