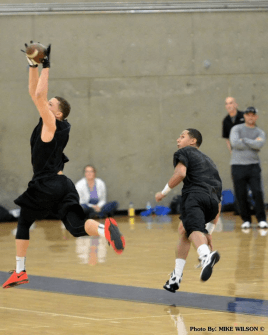 Exciting news out of West Linn as 2017 top athlete Elijah Molden (5-10 175 ATH) has been offered by the Oregon Ducks. As most know he is the son of former Duck and NFL 1st round pick Alex Molden.
Referencing the offer and the U of O camp last week Elijah says, "I had a great time at camp and believe I performed pretty well". Adding, "I toured the school the day after the camp with my family friend Brady Breeze, who I have known since I can remember." Breeze is ranked the top safety in Oregon for 2016 and was offered a few days back.
Molden continued, "I'm truly honored as Oregon is on my short list, although I'm not ruling anything out at this point." Elijah earned 2nd team all league honors as a freshman something rarely done at such a young age. Expect him to be a featured athlete for the Lions on both sides of the ball in what will once again be the state toughest conference (Three Rivers League).
Former Duck great and NFL QB Chris Miller takes over as the head coach for the Lions, which only adds to the excitement in West Linn. Elijah will be one of the most recruited kids in the country for his class so he is keeping his options open. That said the offer from the Pac 12 power is special for multiple reasons.
Much like Breeze, Molden is a phenomenal kid and someone that brings a lot to the table on and off the field. He is a three sport athlete, with a 4.0 GPA, and an individual that we will hear much more from in the coming seasons. Congrats to Elijah on what will be the first of many.