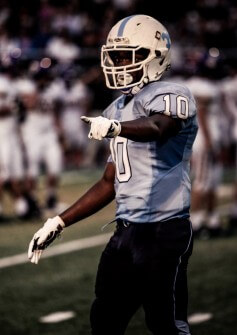 He led his team in tackles as a junior this past fall and Interlake (Bellevue, Wa.) S David Jones has garnered the attention of a handful of schools. Northwest Elite Index got the scoop from the talented defensive back prospect who hopes to have an even better senior season.
"I was sorta the guy who cleaned up things for us last year," the 5'11", 180-pounder told NEI. "We had some troubles tackling last year, so I was sorta there as the last option to make the tackle. My guys depended on me to make that play and I did it as much as I could, but this year I think we're going to be a lot better.
"Coach (Dave) Myers has been here for a couple of years now and we've all been working on our fundamentals more and our techniques and we definitely feel much more like a team right now than we did before and I think that's going to help us a lot."
As a junior last fall, Jones managed to lead the Saints with over 80 tackles and he also noted two forced fumbles.
"He's an aggressive kid with a lot of potential and he's a real good athlete and leader for us back there in the secondary," Myers added.
"I'm probably better in run-support, but I've been really working a lot on my coverages and I think I'm going to be much better in coverage this fall than I was last year," Jones said. "I've worked a lot on my footwork, you know not taking any false steps and stuff like that, and being more flexible in my hips."
No offers have come in for the talented defensive back yet, but a handful of schools talked to him during the spring and he's hit the camp circuit hard in the month of June.
"I talked to Army, Wyoming and Eastern Washington and they are all interested in me and what I do," Jones noted. "This summer (I've been) busy hitting the camps at Eastern, Army, Wyoming, Montana, Washington and Washington State."
Jones plays much bigger than his size would indicate. He's got solid athleticism and leadership skills, so it's just a matter of schools getting more film on him and determining whether he fits into their system or not. He could wind up moving down to a linebacker or rover spot at a smaller school or stay in the secondary and play in the deep patrol for a bigger school.
Either way, Jones will be a good locker room guy and one that makes his presence felt when his team's defense is on he field.