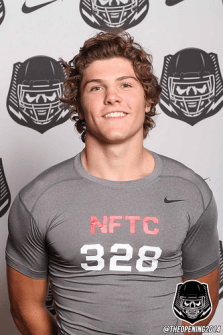 In breaking news out of Eugene, Oregon's top safety for the class of 2016 Brady Breeze (6-1 195 S/RB) has been offered by the Oregon Ducks. As most know Brady recently made the transfer from South Medford, to 2013 state champion Central Catholic, and will be part of a nationally ranked 2014 Rams team.
Breeze racked up MVP DB honors at the Ducks camp this last week, and impressed enough to receive the early offer from one of the top schools in the country. Speaking on the offer and his thoughts moving forward Brady says, "It really is a dream come true with the University of Oregon being a special place for me and my family." Breeze is the nephew of 8 year NFL vet Chad Cota who starred for the Ducks back in the early 90's.
Brady picked off almost every ball thrown his way at the Ducks event and solidified what DB Coach John Neal and staff were looking for. He is an extremely humble kid and tends to not give himself enough credit saying, "At first I wasn't sure if I wanted to go to Oregon's camp cause I didn't think I had a chance, but I'm glad that I did."
Breeze will be a state player of the year candidate on both the football and baseball field, and ranked among the top overall athletes in the country for the class of 2016. Close friend and Central Catholic teammate Ronnie Rust was a sophomore All American on the football field and already holds an offer from Oregon St in Baseball.
This duo will help a ridiculously talented Central Catholic team as Brady says, "I'm excited to be a Ram and work with a bunch of guys who thrive in school, follow the lord, and dream big."
Brady was a standout at our elite events over the winter and an MVP on our Vegas 7 on 7 All Star squad. He is a kid that exemplifies all that is good about HS athletics and an individual that we will be following for years to come.