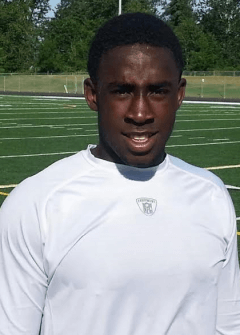 A name that has just started to emerge on recruiting radars recently is Kentwood (Kent, Wa.) DE Josiah Bronson. The talented multi-sport athlete had an impressive showing at a recent camp and, if he can get his academics in order, he's likely to wind up being a highly-coveted player in the 2015 recruiting cycle.
Bronson blew onlookers away at the recent Northwest Elite camp held at the Starfire Athletic complex just a couple of weeks ago and he's seen recruiting pick up a bit, although most schools are taking a "wait and see" approach with him.
"I've talked to Idaho and Washington the most, but there are a few more schools that have made contact with my coaches and said they liked me," Bronson told Northwest Elite Index recently. "Honestly, I've really been working on my grades and that's something that I need to get right so I am taking summer courses and working on getting my academics where they need to be."
Bronson is the younger brother of former Washington Husky and Eastern Washington tailback Demetrius Bronson who signed as a free agent with the Seattle Seahawks recently, so he has the athletic pedigree necessary to be a playmaker at the next level.
When you watch him come off the ball and then the way he uses his 6'3″, 260-pound frame to get around or through pass-blockers, it's an impressive thing.
"I like to get after the quarterback," Bronson said matter-of-factly. "I use my hands well and I never quit. I always pursue, even if the play goes away from me."
As a junior this past fall, Bronson totaled over 60 tackles and he also posted seven sacks from his defensive end spot.
"This year, I want to be more explosive and get to the quarterback more," Bronson said. "I work a lot on my quickness and agility, but I'm pretty good at both of those considering my size."
Make no mistake, Bronson is likely to be a highly-sought-after prospect on the gridiron if his academics get in order, but he's also an important player on the Conquerers' basketball team too.
"I play power forward for us and it's a lot of fun," Bronson said. "I have fun playing both sports mainly just because I love to play them, but also because I love to compete and do the best I can at all times."
Bronson plans to hit the camp trail this month and hopes to take part in the Washington Rising Stars camp this weekend, but was unsure if that would happen or not.
Regardless of what happens with him on the camp circuit, schools know a lot about the talented two way, multi-sport prospect from Kent and it will be interesting to watch how his recruitment goes over the next eight months.