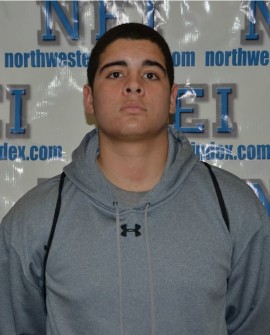 One of the fastest rising lineman in the state of Oregon is Aaron Turner (6-5 265 OL/DL 2015) of Gresham. The kid out of the Mt Hood Conference had one of the most impressive off seasons of any athlete in the Northwest.
Turner has legit size and many of the intangibles needed to play at the next level. You can expect Aaron to be ranked one of the top 10 offensive lineman in Oregon with the OL/DL rankings being released in the next week. Referencing next year and his goals moving forward he says, " I want to continue to get bigger, faster, and stronger". Adding, "My role has changed with the loss of our starting center from last year Brandon Grissom, as I might rotate from the Tackle and Center spots and also play on the defensive side of the ball."
The Gophers have a strong group returning and should be one of the better teams in the MHC. Aaron says, "We have multiple guys that are working hard and should be team leaders". He continued, "Brian Dahl, Caleb Dalzell, Morgann Chavez, Maleko Arango, Sirgeo Hoffman, Noah Tramposh, Markel Robinson, and Nick Abbs will all play a key role." You won't see a group with a much bigger offensive front as Dalzell and Abbs both stand 6-6.
Gresham went (4-7) in 2013, but will bring back a host of talented kids that now possess Varsity experience from a year ago. Turner was a stand out at our BFA elite events this past winter going against the top athletes in Oregon and SW Washington. Speaking on his early off season he says, "The elite events helped me with my technique while going against top opponents, as I was able to breakdown film from the events and make improvements there as well."
Aaron is all of 6-5 and just hitting his stride when it comes to his game. With a successful 2014 campaign he will have an opportunity to play a high level of collegiate football. We wish Turner continued success and will bring you updates as they happen.