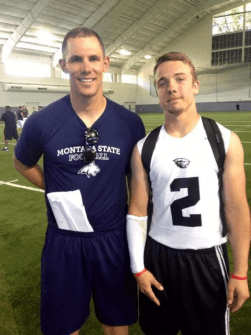 News coming down tonight that Easton Trakel of Tumwater (Wash.) High School has been offered by Montana State University. This is the first offer for the dynamic 2016 class athlete.
"It means a lot," Trakel told NEI. "I have been working for this since freshman year. I'm still in shock I got my offer."
Trakel has been in contact with the Bobcats coaching staff the past few weeks, but was still waiting for to hear about an offer.
"I called Coach (Cody) Kempt after the Nike football training camp he said they were very interested," Trakel said. "He wanted to offer, but wanted to see me in person and see me run routes. I came down to Oregon State for the half day camp and talked with him all day and after the camp he told me to call him in 5 minutes so he can make it official."
This past season Trakel finished with over 1,700 all-purpose yards and 13 TD's, helping lead the Thunderbirds to a second place finish in the 2A classification. Trakel did a little bit of everything last season, and finished over six hundred yards in rushing and receiving, and was over 400 yards in the return game.
You will be hearing Trakel's name a lot the next few seasons, as he will be a feature piece for what is a great Tumwater program, that will start the season ranked #2 in 2A.
This could be the first of many offers for Trakel, who has been hearing a lot from programs like Eastern Washington, Oregon State and Oregon.
Trakel has one college camp left on his circuit this season, Eastern Washington this coming week, and is looking to get an offer from the Eagles while he is there.
I look forward to watching Trakel and the Thunderbirds this coming season, as they are once again a legitimate state championship candidate.