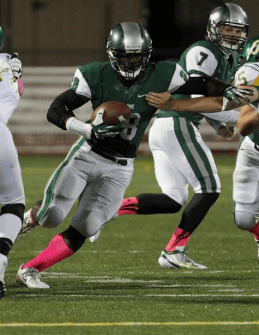 A name to keep an eye on this fall for the 2016 recruiting class is Skyline (Sammamish, Wa.) RB Rashaad Boddie. The talented runner is driven to be one of the best ball-carriers in the state, regardless of class, and he's working hard this offseason to prepare for a big junior season.
Boddies posted 524 yards and seven scores on 84 carries, to go along with six receptions for 95 yards, while playing almost half of the season with a high ankle sprain.
"It was a high ankle sprain that eventually turned into a low ankle sprain, so it was bad," Boddie admitted to Northwest Elite Index recently. "I played on it for the last five or six games. I'm actually not really sure when it happened, but I had to tough my way through it and then heal up in the winter before track season."
Boddie's workload promises to increase this fall with Skyline working in a new quarterback this fall and he will also play some defense this year too.
"I'm definitely hoping I'll get to play defense this year," Boddie said with a smile. "I'll do whatever the coaches say, obviously, but I just don't want to come off the field, so I am pretty hopeful that I'll be on defense this year too."
With his amazing size (6'0, 220) and outstanding athleticism, Boddie's status in the 2016 class is already starting to take shape and he's got several schools eyeing his talents.
"The mains schools I've been hearing from are Washington, UCLA, Washington State, Arizona, Arizona State and Utah State and Colorado," Boddie noted. "All of them have just been introducing themselves to me and they are telling me they are interested and they are looking forward to seeing me this fall."
Boddie said he plans to take in Washington's Rising Stars camp, UCLA and Washington State's camp and he's already participated in the Northwest Elite Camp, the Skills and Drills on the Hill camp (at Skyline) as well as a few others.
"I just finished up track, so I'm trying to get back into football shape, which takes some time, so getting out to stuff like (that) is good for me," Boddie said.
Boddie plays for one of the top programs in the state and he's got the size, speed, athleticism and instincts to be a big-time prospect over the next 18 months or so. Keep an eye on this player from the Sammamish Plateau as you will likely be hearing a lot about him this fall and in 2015 as well.