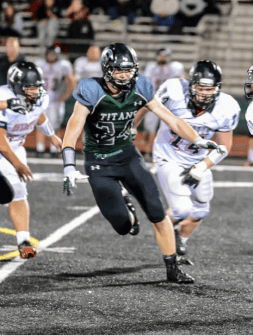 A kid you will hear a lot about over the next two seasons is 6-5 225 TE/DE Jacob Kizer of West Salem. Take one quick look and you see an athlete with legit D1 size and all of the tools to be one of the most recruited kids in the Northwest.
Kizer will come in ranked one of Oregon's top recruits for the 2016 class and a can't miss Division 1 scholarship talent . Jake MVP'd Barton Football's largest in state camp & combine a few weeks back in Salem. His (4.70) 40 yard dash turned heads as his combination of size and speed are rare.
He earned all league honors as a sophomore at D end while starting both ways . His overall athleticism was on display during the basketball season as he doubled up as a varsity athlete, playing power forward, and finishing as the team's 3rd leading scorer. With continued progression he will be one of the most sought after kids to come out of the Central Valley in Conference history.
Head Coach Shawn Stanley is one of the most successful and respected leaders in OSAA memory, coaching the likes of Oregon Gatorade Player of the Year Brett Smith (Wyoming), Jordan Bishop (Oregon St), Jordan Jenkins (Oregon St), Matt Sommer (E.Washington), and current top ranked D1 recruits Cade Smith and Keegen Hlad. His ability to gage such talent is on point with most agreeing that Kizer is going to be special.
You will see Jacob ranked at the top charts both offensively and defensively once the 2016 rankings are released, with his 3.7 GPA speaking to his off the field attributes.
Referencing next season and his goals moving forward he says, "I'm open to all schools that are interested and I will continue to work hard on and off the field". Adding, "We want to win the CVC and I will do everything I can to help our team be successful."
When all is said and done Jacob will have multiple options at the D1 level. He is a quality kid that exemplifies what Titan football is all about. Congrats to the big man on his early success. We will bring you updates as they happen.