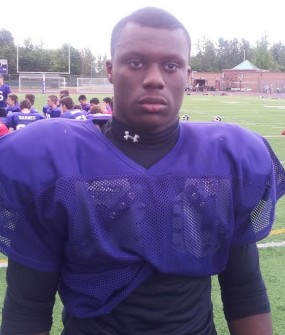 One of the top returning tailbacks in WESCO 4A this year is Kamiak (Mukilteo, Wa.) RB Jojo Binda. After a solid junior season that saw him lead the team in rushing, the talented runner is ready for a huge senior season and looks the part of a back who could make a big impact at the next level.
Binda got a late start to his junior season, enrolling at Kamiak two days after the start of the school year and that meant he had to miss the first few games while waiting to get cleared to play by the WIAA.
"My dad works for Boeing and we transferred here from Pawtucket, Rhode Island," Binda told Northwest Elite Index following a workout. "Austin (Hall) was already here and I had to have a certain number of practices before I could play, so I missed the first three games and then once I got healthy, I still was sorta behind Austin because he was a really good running back."
Hall suffered and injury that haulted his senior season and that meant that Binda had to pick up the reigns of Kamiak's vaunted rushing attack and he did just that, carrying he ball 126 times for 897 yards and nine touchdowns.
"When you face adversity, you have to step up and my teammates were behind me and that support really helped," Binda noted. "I am more of a power runner and I love to run between the tackles. Vision comes first for me and whatever I see, I just go and I explode."
While he has everything you could want in a tailback — he's 5'8″ and 187 pounds with a strong lower-body — Binda said he's been working a lot on a couple of aspects that he hopes will propel him to a big senior campaign.
"I've really been working on my speed and my agility, mostly my hips," Binda said. "I need to know how to break down and when I get to the second level, I need to explode and working on those things should help me do that."
Binda has yet to see recruiting really take off, but he has gotten some interest from Eastern Washington.
The senior-to-be has already participated in a Nike Camp, the Skills and Drills on the Hill at Skyline High School (in Sammamish) and he plans to hit Washington's Rising Stars camp this weekend as well as San Diego State's camp later this month.
We will continue to keep track of Binda's progress over the next few months and we will update news on him as it happens.