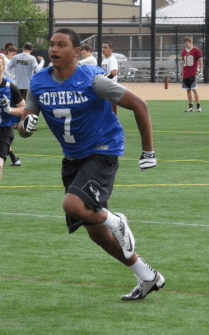 Recruiting is in full swing right now, with offers flying around, and no athlete has been more active than Jackson Keimig of Bothell (Wash.) High School.
Since we last updated you, Keimig has received seven offers, and is now at a total of nine. Idaho was his first offer, followed by Dartmouth, and has since added Bryant, Air Force, Columbia, Montana, Montana State, PENN and Yale.
"It's still hard for me to believe that I have these many options," Keimig told NEI. "I am extremely grateful for each and every one. Looking back earlier in the year, I had my mind set on just getting my first offer. I never thought that I would have this many options."
Recently Keimig made the trip down to Stanford for a camp. Following the camp he picked up his latest offer, that now gives him half of the Ivy League.
"Yale offered me after the Stanford camp," Keimig says. "I had fun competing out there and made some plays. After talking with coach (Paul) Rice and coach (Patrick) Hatch after camp, I got to talk with head coach (Tony) Reno on the phone to confirm everything.
"Really excited about the offer. I'm extremely happy with the Ivy's that have offered me so far, and I've had extended contact with the rest. It's a great option."
Keimig has had very busy offseason to this point, and shows no signs of slowing down, with individual and team activities before fall camp.
"I plan to make it out back east to visit the Ivy's again and make it to some camps," Keimig said. "I also would like to make it out to Montana and Idaho again to see the programs that have offered me in those states. It's gonna be a busy summer. Our team is also going down to the team camp at evergreen college, and we're looking forward to improving as a group. We looked solid in spring ball, and I'm excited for the season with my teammates."
With nine offers on the table, all a plethora of visits ahead, Keimig clearly plans on doing his homework before making his commitment.
"As of now, I do plan to make my commitment soon," Keimig says. "Definitely before the start of the upcoming season. I would prefer to know where I'm going before my senior year."
I look forward to watching Keimig and his teammates this coming season and will be sure to keep you updated on everything as the expectations have never been higher for the Blue Train.