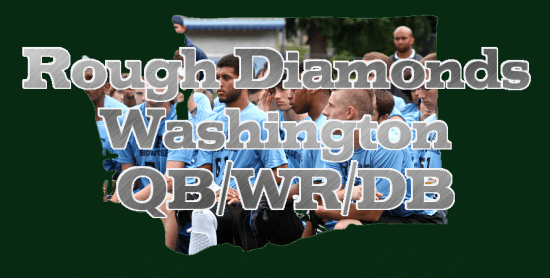 This is part four of the MVP's and breakdown for the Rough Diamonds NW College Showcase. Earlier this week we showed the Specialists Breakdown , followed by the Lineman Breakdown . The RB/TE/LB Breakdown was combined into one write as part three of this series.
The final session of the 2014 Rough Diamonds NW College Showcase event featured some of the Northwest's top talent, on one field, in front of various coaches from D1 to NAIA, and ended with a few athletes receiving offers.
This is the Washington participants only. Those athletes from SW Washington, mainly the Greater St. Helens League, will be in the Oregon write up by Jordan Johnson. This list will have the MVP performers and standouts only.
For pictures from the Showcase, including both head and action shots, be sure to visit Northwest Elite Index on Facebook .
Quarterbacks
Overall Session MVP
Jonathan Hillel – Mount Si
Upperclass MVP
Robert Kvinsland – Peninsula
Richard Thomas – Eastlake
Underclass MVP
Harley Kirsch – Eastside Catholic
Brian Campbell – Kentwood
Breakout Performer
D'Jimon Jones – Federal Way
Bryce Missey – Bethel
Jonathan (Jojo) Hillel ('15) has been one of the great revelations this offseason, and has seen his stock rise from relative unknown to potential D1 quarterback. At the RDAF Showcase, he was again on point, and showed his athleticism during the drills, picking up to award at his position for the final session.
Robert Kvinsland ('15) is another QB that has seen his stock rise. He has good size, a strong arm, and with a tremendous work ethic will only see more attention as the recruiting process continues. Richard "Blue" Thomas ('15) may be the states top duel-threat QB, and has shown the ability to throw the ball. Continued work could lead to great things for the senior to be.
The 2016 recruiting class is absolutely loaded with Quarterback talent, and they came to play on Sunday. Harley Kirsch led Eastside Catholic to a Runner-Up finish at the state tournament last season, and has continued to impress through the offseason. Kirsch got better as the day went along, and could've very easily been named as the overall MVP. Brian Campbell comes from the always tough Kentwood program, that has a history of good QB play. Campbell is no different with a very strong arm, great accuracy and a top notch work ethic. Look for him to explode this coming season.
D'Jimon Jones ('16) and Bryce Missey ('16) are both ready to take over the starting spots this coming season. Jones actually has starting experience, including his first start against Missey's Braves. He is a multi-talented athlete, that has the ability to score on any play through the air or on the ground. Missey is one of the hardest working QB's in the state, and is primed for a breakout year in 2014. He has good arm strength, accuracy and showed above average athleticism during the SAQ drills.
Zillah's Justin Dunsmore ('15) is a very intriguing prospect. Standing about six-foot-six and weighing 220 pounds, he has the size of a big time QB. Last year he was not given the opportunity to throw the ball much for the Leopards, but has shown well at camps thus far. He is definitely a name to keep an eye on.
Lynden's Clark Hazlett ('15) and Sterling Somers ('16) continue to battle for the starting spot for the Lions, and both showed large improvement from the last time we saw them. Hazlett has an uphill battle transferring in from Squalicum. He is a duel-threat that throws the ball well, and can pull it down and go to the house if needed. Somers won a state championship last season after he was thrust into the starting spot due to an injury. He has a big frame, with a strong arm and solid mechanics. This could be a tough decision for the Lions' coaching staff.
One of my favorite QB's in the state is Ruvim Tyutyunnik ('15) of River View High School in Eastern Washington. Ruvin showed athleticism, arm strength and above average accuracy during the session, and should be on many college radars. Playing at the 1A level could make it tough to judge his film, but he showed he is a capable QB on Sunday.
Continuing in the 2015 class is Trevor Asbjornsen (Graham Kapowsin) and Damien Maricich (Tahoma). Asbjornsen is a big body with a strong arm and good accuracy. Last year he led the Eagles to a league title, and is one of the state's top QB's. The Left-Handed Maricich looks great throwing a ball. He has good size and could have a breakout season in 2014.
Casey Brink ('15 Bainbridge) is an athlete we see at a lot of events, and was once again one of the more consistent performers on the day. His arm strength and accuracy are above average, and his athleticism allows him to project to multiple positions. Drew Olson ('16 Renton) is an intriguing prospect. He works very hard and continues to improve every time we see him.
Another 2015 prospect that had a nice day is Robert Harrelson of West Seattle. He is a hard worker, and actually threw in the RB/TE/LB session, as well as this session. Harrelson gets better each time I see him.
Two young gun 2018 class QB's that showed up and impressed were Hunter Wendling (Tahoma) and Ryan Baerg (Bellarmine Prep). Wendling is a workout junkie, and could probably start for some programs in the state next season. His mechanics are well beyond his years, and his athleticism isn't far behind. Baerg has also worked hard to get where he is, and it shows in his consistency. With these two in the system, QB play in this state is in good hands.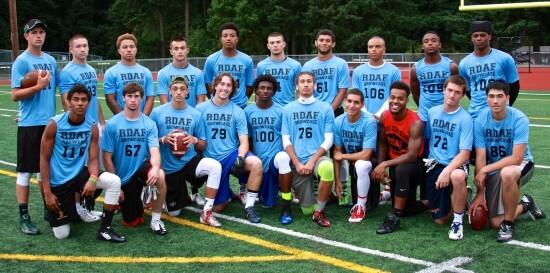 Wide Receivers
Overall Session MVP
Jayson Williams – Lincoln
Chico McClatcher – Federal Way
Upperclass MVP
Santana Johnson – Gig Harbor
Dayzell Wilson – Bothell
Keynan Foster – Jackson
Underclass MVP
Noah Samsen – Gig Harbor
Marcus Tate – Federal Way
Jace Navejas – Kamiakin
Breakout Performer
Triston Wedington – Sumner
Sean Hyland – Mount Si
Tarik Hagen – Enumclaw
This was by far one of the most talented group of wide receivers I have seen on one field. Jayson Williams ('15) and Chico McClatcher ('15) share top honors as standout receivers, as Williams is a true receiver, while McClatcher is more of a Slot/ATH. Williams is one of the fastest rising prospects in the state, and actually picked up an offer from Montana State while at the Showcase, and could see interest from the Pac12 begin to pick up. McClatcher has a number of offers, including several Pac12 schools, and was nearly impossible to cover throughout the session.
There won't be many arguments as to who the next group of 2015's receivers were in attendance, as Santana Johnson, Dayzell Wilson and Keynan Foster were clear cut above the rest. Johnson is another fast rising prospect, with good hands, route running and a great attitude, could be closing in on an offer. Wilson is one of the more polished receivers in the state, and showed his talents on Sunday. Foster is a tremendous all-around athlete, and with three offers already in his pocket, looks primed for more.
Noah Samsen, Marcus Tate and Jace Navejas are three of the top 2016 class wide-outs in Washington, and showed why they are highly regarded last weekend. Samsen may be seen as more of a slot receiver, but he is fully capable of playing on the outside. He has great hands and should team with Santana Johnson to form one of the top duos in the state. Tate took a year off football, but has shown little rust and with D1 genes, is really starting to show he projects at a high level. He is a big possession type receiver with great length. Navejas had another great weekend, progressing since we last saw him take Overall MVP honors at the Spokane Combine.
Triston Wedington ('15) is one of the state's top wide recievers, and showed he is capable of playing inside or outside last Sunday. He is a great all-around athlete, that is beginning to see a lot of D1 interest. Sean Hyland ('15) is your prototypical inside receiver. He runs great routes, has some of the best hands in the state, and could be one of Kingco 4A's biggest surprises this coming season. Tarik Hagen ('15) is fun to watch. He fights hard at the line, and does a great job at creating separation. If Enumclaw decides to throw more this season, Hagen could put up big numbers.
The 2015 recruiting class is loaded, and two of the top athletes in the class are Christian Stafford (Todd Beamer) and Phillip Moore (Eastmont). Both athletes are in the same boat, as their programs do not throw the ball a lot, and really did not have a ton of success. Stafford is having a big offseason, that has seen his stock really take off. Moore is a spectacular athlete, that can absolutely fly through the air to get any ball.
Adding to this 2015 class is Roy Hyatt of Mount Spokane High School. Hyatt has already been offered by Wyoming as a defensive player, so he worked out in this session as a wide-out, and did very well. His speed and physicality at the line allow Hyatt to create immediate separation, and he has some of the better hands in the state.
Two inside WR's having nice days were Brett Rankin ('15 Emerald Ridge) and Cole Stephens ('15 Lakeside). We have seen Rankin a lot the past few years, and as usual he was one of the top receivers in attendance. He shows good athleticism and some of the best hands around. Stephens plays RB for his team, but can project all over the field. He worked out at receiver and showed he is very ready and willing to be that do-everything offensive weapon, that is capable of scoring on any play.
Two outside possession type WR's were OJ Jenkins ('16 Tahoma) and Rashaun West ('15 Kentridge). Jenkins is a big target that excels at getting the ball at its highest point. He has big hands and could breakout this coming season. West uses his body well to create space, and has big hands that just engulf the football. He has had a big offseason thus far, and with continued work, should see himself playing on Saturday's in the future.
Austin Brown (Tahoma) and Griffin Shea (Tumwater) look to be two of the better wide-outs in the 2016 recruiting class. Both athletes are solid two-way capable players, that showed well on the day. Brown has a little more length, but Shea has a little more speed.
Defensive Backs
Overall Session MVP
Dehonta Hayes – Lincoln
Upperclass MVP
Dashay Ware – Beamer
Matt Kvech – Eastside Catholic
Underclass MVP
Zach Smith – Capital
Gabriel Gallman – Kent Meridian
Breakout Performer
Julius Yates-Brown – Wilson
Kody Martinez – Washington
Dehonta Hayes ('15) is freak athlete. He has the ability to cover just about anyone on any field, while probably projecting as a Safety. He takes home top honors and it really is not surprising, as Hayes is a standout anytime he steps on a field. His abilities as a corner are some of the best in the state, and he is still getting better, but his ability to fly around and make plays as a Safety are what really makes coaches drool…. Oh, and he is just getting started as an offensive weapon, where he will be a main target next season.
Dashay Ware ('15) and Matt Kvech ('15) both project as Safeties at the next level, and showed well on the day. Ware is a good all-around athlete, with great instincts that allow him to make plays. Kvech is a stout Strong Safety type, that will do most of his damage in the run, but has the ability to cover as well.
Zach Smith ('16) and Gabriel Gallman ('16) were two of the best DB's in attendance, regardless of class. Smith has been all over the camp circuit the past two seasons, and is always one of the best. He has the ability to get in your face and press, or play off and run with you. I saw Gallman for the first time last weekend, and was very impressed. He may have got the most reps during the one-on-one session, as college coaches kept wanting to see him perform.
Julius Yates-Brown ('15) and Kody Martinez ('15) are most well known as QB's for their respective teams, but both project highest as defensive backs. Yates-Brown is a great all-around athlete, and can beat you in just about any you test him. He has good speed, agility and shows a surprising toughness. He is one of the state's top Safety prospects. Martinez is a lockdown corner, and showed he is one of the state's best. Playing at a 2A school, events like the Showcase are important for Martinez, as he showed he is capable of playing with anyone.
Two DB's I had not seen until the Showcase are Stevie Cleveland ('15 Timberline) and Tanner Aliff ('15 Bellingham). Cleveland is an outstanding all-around athlete, that may be a bit undersized, but can flat out play. He showed good speed, and a great ability to change direction. Aliff has a solid frame that projects him to a Strong Safety type position. He showed good coverage abilities and will be added to our rankings page.
Two underclass DB's with strong showings were Gavin Crow ('16 Kamiakin) and Anfernee Gurley ('17 Archbishop Murphy). Crow continues to impress, as this is not the first time we have seen him this offseason. He has good all-around athleticism, and looks to be one of the top athletes in the 2016 class. Gurley was an unknown leading up to the Showcase, but a review of his film, and seeing him play has all of us very excited.
Rounding out the underclassmen were Bennett Dondoyano ('17 Lakeside) and Isaiah Williams ('16 Kentwood). Dondoyano is really developing nicely and starting to look like a true lockdown corner. He showed good speed and instincts, that allow him to cover just about anyone. Williams projects as a Safety, but did a great job all day covering anyone put in front of him.