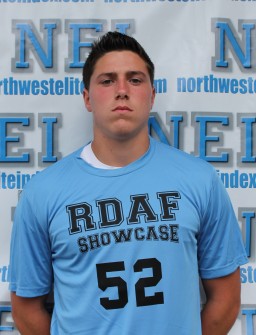 For many years the Bethel (Spanaway, Wash.) Braves were one of the top teams not only in the SPSL, but in the State of Washington. While they have fallen on hard times the past few seasons, the future looks bright at Art Crate Stadium, and a big reason is the potential of QB Bryce Missey ('16, 6'0″ 175).
Last season the Braves used two athletes at QB, Jared Siegel and Jamon Jones. Siegel has been moved, and Jones may see some time as more of a Wildcat type QB, but the keys to the Bethel bus appear to have really been turned over to Missey.
The Bethel coaching staff named Missey a captain for this upcoming season, and it really should come of no surprise as his leadership skills are second to none. Missey is a very busy student-athlete, as he participates in multiple extra curricular activities, and still maintains a 3.87 GPA. Missey has two varsity letters in football, one in track and even received one in Community Service, where he was recognized for over 200 hours of work.
With all that being said, Missey doesn't appear to be slowing down anytime soon.
"I plan on continuing my training with coach Taylor Barton to work on more mechanics and to spend more time at chalk talks going over coverage more," Missey told NEI. "I'm going to University of Puget sound camp July 12 and I plan on attending Eastern Washington QB camp on July 25.
"My receivers and I also have been throwing routes everyday since the last season has ended and we plan on continuing that through the summer. I personally have been spending more time on film. Last season I underestimated the importance of studying film and I'm putting more time in to learning how to study film."
The Braves have fallen on harder than normal times recently, as the tradition power has finished with a 3-7 record the past two seasons, while struggling to score points.
"We have been putting a lot of time into learning the offense and defense that our new head coach (Mark Iddins) has installed," Missey said. "We also have been in a lot more passing tournaments (Skyline Skills and Drills on the Hill, UW passing tournament) and have been playing some really good teams like Eastside Catholic and Skyline.
"When you play teams like that, that are consistently a powerhouse in this state, then you have to raise your level of play if you want to compete and that's what we want to show people is that we are here to compete and that we can play with anyone in this state."
With the SPSL making some changes in the alignment, the South division of 4A looks to be wide open for the taking. The likes of Puyallup and Graham Kapowsin look to be the early on paper favorites, but a team like Bethel could definitely sneak in to make some noise. To do so, they will need a big year from Missey, who is setting some high goals.
"I want to throw for 3000+ yards and 30+ touchdowns, be under 5 interceptions, and I also want to run for 500 yards and 5 TDs," Missey says. "I want to be a 1st team all league Quarterback and honorable mention on the all state team. I'm also hoping to get on some more college coaches radars and see the interest levels increase over the next year."
With a good supporting cast around him, and a great work ethic, the sky truly is the limit for Missey and the Braves. Only time will tell if they can get back to the days of league titles and state playoff games.