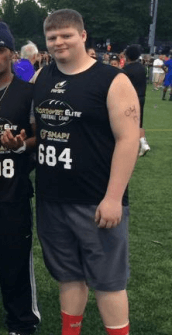 Kent Meridian could be a sleeper team to keep an eye on in the SPSL this fall and one of the big reasons is the fact that they have OL/DL Tanner Torr leading the way, on both sides of the ball.
Torr played both ways for the Royals last fall, but his future is on the offensive side of the ball.
The 6'4″, 285-pounder, with quick feet and a nasty streak, received Second Team All-Conference honors and he said a big reason is his strength.
"I'm pretty strong. I'm naturally strong, but I also work at it a lot and it's something that I take pride in," Torr told Northwest Elite Index recently. "I definitely want to get stronger before my season starts. I'd like my bench (already at 305 pounds) to get up around 320 and I want to get my power-clean (currently at 275 pounds) to be somewhere over 300 before the start of the season."
Torr also boasts a 430-pound squat and he feels that helps him do what he does best.
"I can pass block pretty well, but if I had to say what I feel I do best, then it's probably run-blocking," Torr acknowledged. "It's easier to drive guys and it's more fun too. I love to fire off and drive a guy back more than sitting back and waiting for them to come to me while I'm in pass-protection. It's just sorta my nature."
On the recruiting front, Torr said he's heard from a couple of schools, but, as of yet, he's still waiting on his first offer.
"I have talked to the University of Puget Sound and Idaho so far," Torr noted. "They both told me this spring that they were going to be keeping an eye on me and what I do to start the season.
"I went to a couple of camps, the Northwest Elite camp and the Nike Camp that was held up in Seattle. I felt I did pretty well there and coaches got to watch me and work with me at the Northwest Elite camp.
"I just have to go out and do what I need to do. I want to be the best I can be, both for me (individually) and for my team."
Speaking of his team, Torr said he and his teammates have some goals in mind for this season.
"We definitely want to have a winning record and get to the playoffs," Torr said matter-of-factly. "We also want to get that Taylor Trophy back from Auburn.
"We have the second-oldest rivalry in the state and that trophy means a lot to us. We want to get it back and I think we've got the team to do that, but obviously, we have to get it done now (as they work to get ready for the season) and during the season."
We will continue to keep track of Torr over the next six months as he finishes up his senior season and wraps up the recruiting process. Expect more coaches to take a long look at this emerging offensive line prospect as the season gets underway and for him to have several options when Signing Day rolls around in the first week of February.