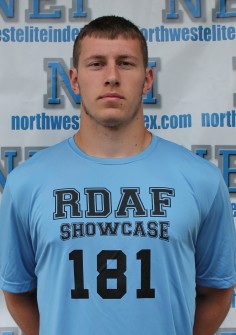 One of the more impressive prospects at the Rough Diamonds Showcase that took place on the final weekend of June was Marysville Pilchuck DE Bryce Vitcovich. After a solid junior season, he has his eyes set on an even better senior campaign and he's working hard toward that goal as fall camp approaches.
"I'm definitely coming in with a chip on my shoulder," Vitcovich told Northwest Elite Index. "I was named Second Team All-League and I felt like I had a really good season, but obviously, it wasn't good enough, so that just drives me to keep working and get better every day."
One way he's been doing that is to work on his speed and quickness as well as his overall strength.
"My team and I lift a lot during the week and I've been working a lot on my speed and quickness," Vitcovich said. "The big thing for me, playing along the defensive line, is that I want to be quicker and faster so that I can get the edge better. I had 63 tackles and six sacks, but I also had like 21 quarterback pressures and I want to turn more of those into sacks.
"I am also working a lot on my strength. My power-clean right now is 305 and I want to get that up to 340 before the end of the summer and I want to get my squat to 410 before the season starts too. Those will help me play my spot better and be more effective, especially against the run."
Recruiting has yet to get started for Vitcovich, but he has been talking to a few schools.
"Pueblo State in Colorado stopped by our school and they said they liked me a lot and College of Idaho told me they like me too," Vitcovich said. "I attended Boise State's camp and they liked what I did there and Northern Arizona talked to me recently and said they thought I did well (at the Rough Diamonds Showcase).
"I thought about doing more camps, but I think I am done just because I don't want to risk getting injured. It's my senior season and I want to rest up before the start of fall camp and be ready to go."
At 6'3″ and weighing in at 230 pounds, Vitcovich has the frame to add bulk and maintain his speed. When you watch his film, you see a player with a nose for the ball and the ability to get consistent pressure on the quarterback. While he remains a bit of a hidden gem at this point in the recruiting process, expect that change if he gets off to a fast start in September and more schools start to find out about him.