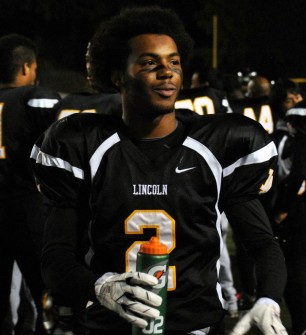 Lincoln (Tacoma, Wa.) CB Dehonta Hayes currently holds seven offers and several more schools have been showing him a lot of interest the past few weeks. He recently updated Northwest Elite Index on his offers and also talked about when he's likely to make his decision.
"I have offers right now from Navy, Eastern Washington, Montana State, Montana, Portland State, UTEP and U.C. Davis," Hayes told NEI recently. "The main schools I've been talking to that haven't offered yet are Arizona, Utah, Cal, Boise State, Washington and Washington State.
"All of those schools like me a lot and think I can be good in their system, but they asked me to be patient because they're going a little slow right now."
As a two-year starter for the Abes, Hayes showed his remarkable ball-skills as a sophomore, racking up seven interceptions to go along with 41 tackles and then followed that up with a solid junior campaign that saw him post 63 tackles and an interception.
While he's mainly focused on the defensive side of the ball, Hayes said the Lincoln coaches have talked to him about playing receiver as well and that's something he's jumped at the chance to learn.
"I've done almost everything on offense this offseason just because I have our defense down. I've been running routes, catching passing, working on different things just to make myself better.
"It's really going to help me play defense because it helps me understand how routes go together and what they are trying to do when they run routes against me."
Hayes said he's unsure of when he'll make his decision, but hopes to make it sometime before the end of his senior season.
"I'm thinking maybe by mid-season, game four or game five," Hayes said. "I've only visited one of the schools that have offered me, Portland State, so I'd like to see a few of the schools that are after me and that have offered me before I make my decision, but if I take a couple of visits and feel good about making my decision then I will do it, but I'm not really set on a date or anything."
With his size (5'11, 190), physical nature and ball skills, Hayes is probably the top senior defensive back in the state of Washington and he's definitely a prospect that could garner bigger offers with a good start to his senior season.
NEI will continue to keep in touch with Hayes over the next few months and we will update news on him as it happens.