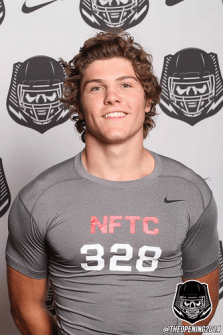 Exciting news out of Portland as Brady Breeze (6-1 200 16′ S/RB) of Central Catholic High School has committed to the University of Oregon. Breeze is considered one of the top safety's in America for the class of 2016 and the Ducks didn't wait to offer after he MVP'd their camp in June.
We got to know Brady well over the off season as he was a stand out on our BFA 7 on 7 All Star Squad. He made the transfer a few months back, moving from Medford to Lake Oswego where he now resides with his family.
Referencing the offer he says, "Oregon has been my favorite school since I could walk, I've grown up wearing Ducks gear from hats to Pajamas". Adding, "When my alarm goes off, its the Oregon fight song… Its just a school that has been in my blood since I can remember and been my motivation for everything."
Brady will have two years to play ball for the defending state champion Rams, who could very well be one of the top High School teams in the country. He will be a player of the year candidate, along with close friend and teammate Ronnie Rust who was a Sophomore All American last season. Both are considered two of the top baseball players in their class nationwide on top of everything else.
Speaking on all of the work that went into this accomplishment Brady says, "I initially told my parents that I didn't know if I wanted to go to Oregon's camp, cause I didn't think it was realistic for me to get an offer… I'm glad they made me think otherwise." Brady went off at the Ducks camp, earning MVP DB honors while looking and playing like his uncle Chad Cota. As most know Breeze is the nephew of the former Duck and 8 year NFL vet.
In closing the talented safety summarized this last year saying, "I was waking up this off season at 5AM on Sunday's to drive from Medford to Portland and attend the Barton Elite Events…. Now all the prayers and hard work have paid off and I couldn't feel more blessed."
You won't find a much classier individual. We look forward to following Brady over the next two seasons, as he is an even better kid then athlete.