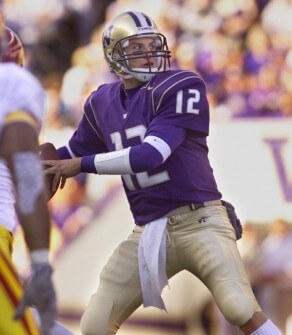 If you are a QB or WR looking for a full weekend of skill development on and off the field, Barton Football Academy is hosting their first ever weekend long overnight camp. It will be held just south of Portland, Oregon, and starts Friday evening, and finishes Sunday afternoon.
Campers will be lodging in dorms and all meals will be catered in. QB's will be instructed by former UW QB Taylor Barton, while WR's will be coached by former WSU WR Mike Bush.
"We've wanted to do this for a lot of years," Barton says. "We couldn't be more excited to finally have the pieces in place to host an overnight camp.
"At our camps, we get an opportunity to work with athletes and in a short time, see good results. But we don't get an opportunity to spend time with them off the field. I am looking forward to having an entire weekend of coaching, not only on the field, but also in the classroom as well as just kicking back and relaxing."
The event is for all ages, taking the first 10 youth, and 10 High School athletes at each position (QB and WR ONLY).
For more information and to sign up, visit the Barton Football Academy website.