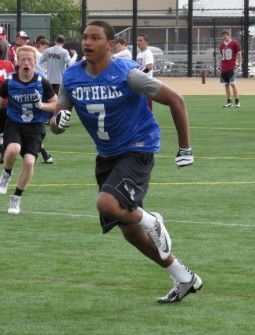 Exciting news from Bothell (Wash.) where one of the state's top athletes, Jackson Keimig ('15) has committed to play his college football for Yale University.
Keimig commits to Yale over a plethora of other offers, including multiple from other Ivy League programs.
"Yale was special from the beginning of my recruiting process," Keimig told NEI. "It was program and school that i felt i fit really well into and it was obvious that Yale was full of great people. It was a school that was as excited about me as i was about them.
"They said they would use me as their H-Back who will almost always motion out into the slot or wide out. Its a versatile position designed to get mismatches."
With recruiting now in the books, Keimig can turn his full focus to the season ahead, where he and the Cougars are likely to start the season as the top ranked team in 4A.
"It was important for me to commit before the start of my season because I wanted to get the bulk of the admission stuff over with as soon as possible," Keimig says. "I want to make sure I focus on our team improvement, and not have to worry too much about recruiting.
"I want to thank all of the schools that recruited me, especially those who took my family and I on unofficial visits. Most importantly, I would like to thank my family, friends, and teammates for supporting me throughout the process. I couldn't do it without the blue train.
Keimig is a favorite within the NEI staff, as he and his family have been supporters for a long time. Jackson is a respectful, hard working athlete that will fit well in the Bulldog program. We wish him the best of luck this coming season at Bothell, and in the future at Yale.