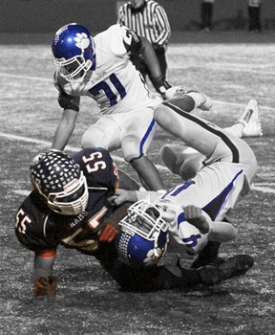 One of the Washington's top defensive lineman in the 2015 class is Billy Greer from Wilson High School in Tacoma, and he is starting to pick up some serious interest.
What Greer lacks in size, 6'0″ 220 lbs, he makes up for with sheer determination and raw athletic ability. Many people see Greer in the mold of a Dwight Freeney, and running in the neighborhood of a 4.6 40-yard dash, it makes a lot of sense.
Greer has seen his stock steadily rise since the end of last season, and is now seeing interest from multiple FBS schools, including Nevada, Washington State, San Diego State, Boise State and , but it didn't always look like Greer would be a D1 prospect. As a sophomore he was 5'11" 265 lbs, over a 5.0 in the 40, and really stuck inside on the line.
"I was limited to only being able to play one position," Greer told NEI. "During the offseason I wake up in the morning, stretch and run about 4 miles. Lift weights in the afternoon, then do hills and sprints at night, while I was on a strict diet.
"If I didn't love the grind I wouldn't be where I am right now. Its something I love to do. I went from playing offensive guard and defensive tackle, to runningback and outside linebacker/defensive end."
Greer finished last season with over 65 tackles, 14 sacks, 15.5 tackles for a loss, 5 forced fumbles and 4 fumble recoveries. Those numbers were good enough for first team All-Narrows and first team All-City.
"I just want to be an game changer in whatever way I can," Greer says. "Next season my goal is to be 1st Team All-League on both sides of the ball at RB/FB and OLB/DE and get All-Area in at least one of them.
"My team goal for next year is to get to the playoffs and have our team play to its fullest potential. We are shorter on guys this year but we have players that are hungry to win."
Greer is a 3.0 student, and also is also a member of the track and field team, where he participates in a variety of events, from the 100 meter dash, to the long jump, and is even the anchor leg of the 4×100 team.
Last weekend Greer was part of a Team USA squad, finishing with 4 sacks, 4 tackles for a loss, and a forced fumble. Now he is home and ready to get back to work.
"I am going to continue working out and perfecting my techniques so I can do what I am capable of this season and leaving a good impression on scouts," Greer said.
I look forward to watching Greer and the Wilson Rams this coming season. They have plenty of talent across the board to make a solid run, and should be exciting to watch.