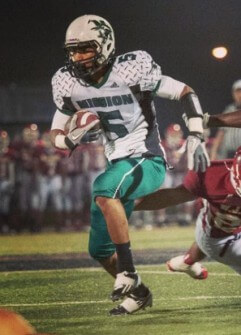 One of the top athletes in Canada is Jesse Walker (6-2 195 WR/DB 15′) of Mission Secondary (BC). He had a breakout RDAF Showcase earning MVP Upperclassmen honors after a phenomenal junior season. Walker accumulated 1,613 all purpose yards and 21 touchdowns, and was named the BC AA Provincial Player of the Year.
Referencing the upcoming season Walker says, "I want to take my team back to the BC Provincial Championship and win like we did back in 2012". Adding, "Playing in Canada is a lot different then in the state's, , our universities play CFL rules other than Simon Fraser, so there is an adjustment that you have to make."
Watching his film you see a kid that is dominant on both sides of the football. He can play 6 or 7 different positions and proved that time and again in 2013. Jesse rushed for 620 yards and 10 TD's, while hauling in 560 receiving yards and 6 touchdowns at Wide Receiver. More than anything his versatility is what appeals to so many universities.
He says, "I've only played 3-4 years of football but my school has tradition and has made the finals almost every year." Walker also threw for 433 yards and 5 TD's from his QB spot, solidifying himself as one of the top dual threat kids in the region.
At 6-2 Walker is equally talented from his corner position, projecting at the D1 level. His 4.48 (40 yard dash) and 9-10 broad jump re emphasize what the kid is capable of. In closing Jesse says , "The showcase was a great event as I got to compete against some very talented players, while making contact with numerous D1 scouts and gaining some interest."
BC's Player of the Year will be a kid that we hear a lot about moving forward. He has all of the tools to play a high level of collegiate football and will be ranked among the top athletes in the 2015 class.