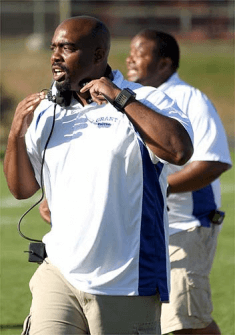 One of the most consistent teams in Oregon over the last decade has been the Grant Generals. Head Coach Diallo Lewis has led the group to a (74-38) record from 2004-2013 and multiple PIL titles, with the Portland school being a model of consistency in a conference that has struggled.
Lewis is widely considered one of the top coaches in the region for his work on and off the field. He has helped countless athletes achieve success at the collegiate level, while producing as many D1/NFL guys as any program in the state in the last 10 years.
NFL All Pro Ndamukong Suh (Detroit Lions/Nebraska), Kenneth Acker (SF 49er's/SMU), Kelvin Cain (Miami), Kenneth Acker Jr. (LSU), Paul McCoy (SMU), Nathan Halverson (SMU), and Andre Broadus (Spokane Shock/Cal Poly) are just a few of the athletes that have come through. Big Sky schools have cleaned up recruiting out of Grant, as the former Jesuit HS QB (Diallo) preaches character and class over anything else.
This year could be special with his son Chris Lewis being a senior, and one of the fastest rising recruits in the Northwest. He has had a remarkable off season and looks like one of the top skill kids in Oregon. The Generals went (2-8) last year playing an independent schedule against some of the top 6a teams in the state (Central Catholic, Oregon City, Sprague). It was not your typical year.
Look for Grant to be a PIL favorite this season as the original league is back in tact. 5A conference champion Roosevelt will challenge as Coach Swain has done a great job with the North Portland group. Lincoln is always in the mix as they too have won multiple PIL titles.
Grant brings back 3 year 1st team all league starter Sam Davis at QB and a host of other talented athletes. The Penn brothers will return (D'Angelo & Dominque) ranked among the top DE/LB's, while Jovon Lewis, Damarea Stigler, and Madison transfer Michael Waters will be some of the other featured athletes on the roster.
On top of all this the Generals youth program won the national championship this past season . To say that they are excited about the future would be accurate as Coach Lewis and his staff continue to do an outstanding job. We will bring you a more extensive preview on the Generals and the 2014 group in the coming weeks.