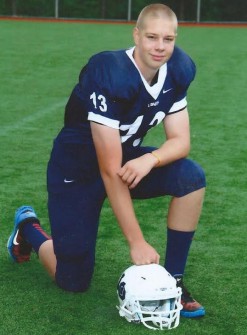 With continued progression Dawson Jaramillo (6-5.5 255 OL/DL 18′) of Lake Oswego has the potential of being one of the top lineman ever to come out of the Northwest.
His overall athleticism is off the charts for a kid 6-5 and still so young. He runs like a deer, and is also one of the top baseball players in the country for his class. At the BFA Camp/Combine in Salem this past spring, he earned MVP Underclassmen honors and had his way with some of Oregon's top senior's to be.
Dawson has been training with BFA line coach Alex Linnenkohl, and will play for one of the NW's top coaches and programs in Steve Coury and Lake Oswego. His LO 8th grade team went on to win the title this past season, beating SEI out of Portland 40-7. Referencing Dawson Linnenkohl says, "He has all the tools to play at the highest level and is looking to improve each and every workout."
On the diamond Jaramillo has been selected to play for a host of different all star teams. He made the Baseball Factory Rookie All American team participating this past January. Dawson was also invited to play for the west coast Mariners, as well as for USA Baseball in Arizona, and in the "Perfect Game World Series" down in Florida.
Jaramillo could be ranked one of the top lineman in the U.S. for the class of 2018. He is that good. Dawson will project as a 1st team All TRL O lineman this year, something very rare for any freshman.
His athletic achievements and accolades just briefly touch on who he is. He stays very involved with his church (Riversgate), going on a mission trip last summer to a small village near Cancun, Mexico. Jaramillo also helped run a vacation bible school for the kids and build the church.
Dawson has an outstanding support system at home with his father saying, "He is a quiet kid who is very loyal to his teammates and lets his play do the talking". Adding, "You will usually find him picking up his RB's off the ground after a play, as he is a relentless pursuer of the ball both on offense and defense."
Expect to hear a great deal from Dawson in the coming years as he could be one of the most recruited athletes in the country.