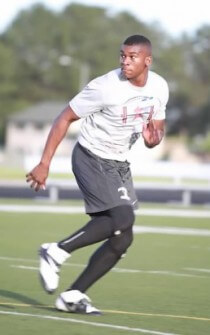 Football in the Tri Cities (Richland-Kennewick-Pasco) is a relative unknown to many people, but a group of motivated individuals is looking to change things for athletes in the region.
Led by former Pasco Bulldog state champion Leon Wright-Jackson, East Development recently hosted a great two-day event at Chiawana (Pasco) High School.
Friday night a group of athletes took part in a combine like scouting event. The athletes were tested in various drills showcasing their speed, agility and quickness. This was really a first of its kind for the Tri City area, and I was truly honored to be asked to take part in the event.
The most impressive athlete in attendance was Mason Jackson ('15 Richland). He was a second team All-MCC member last season for the Bombers, and sports a 3.75 GPA. Jackson runs in the area of a 4.6 40-yard dash, and finished with a 4.27 in the shuttle. At 6'2″ and 217 lbs, with great overall athleticism, Jackson is definitely a big time "Under The Radar" athlete in the State of Washington.
Another impressive athlete heading into his senior season was Masceo Ealy-Thomas (6'0″ 185, Southridge). He finished with the third fastest three-cone drill time at 7.25 seconds, and the second fastest shuttle with a 4.28. Ealy-Thomas is listed as an athlete, and could very easily project to multiple positions on either side of the ball.
Top underclassmen in attendance was really a no-brainer as Brennan Barberich ('17 Walla Walla) really stood out. He looks to be in line for the starting tailback spot for the Blue Devils next season, and showed his athleticism throughout the day. Barberich has a solid frame at 5'11" and 190 lbs, that should help him take the beating that comes with running the ball.
The Pasco Bulldogs have one of the more talented group of underclassmen in the area, and juniors to be Kynen Tate (LB) and Sebastian Gutierrez (TE/WR) were both impressive on the day. Tate has a stout frame (6'0″ 205), and very much looks the part of an athletic linebacker. Gutierrez instantly stood out because of his size (6'3″ 185), and showed athleticism that will see him move onto our rankings board when the 2016 class is released.
Ethan Snow ('16) made the trip up from Hermiston (Ore.) and really showed well. This is the second time I have seen Snow this offseason (Barton Football Vancouver Combine), and he continues to look like one of Oregon's better athletes. At 6'1" 175, he uses his body well to create separation, while also having the speed to outrun most DB's.
Richland made a case to have the area's top freshman (2018) class, as three Bombers really made names for themselves. Gaven Brasker finished with the third best shuttle time (4.33) on the day, and showed tremendous change of direction for such a young athlete. Ryan Piper and Sega Macduff round out the trio, and showed great overall athleticism, to go along with great hands.
The top QB in attendance Friday was Evan Spiel ('17 Kamiakin). We have seen Spiel a few times this offseason, and showed good athleticism, clocking a 7.25 three-cone drill. Spiel is a left-handed gunslinger, and continues to show good progression as the offseason grows deeper.
All in all the Friday night combine was a lot of fun to watch, but the real show took play Saturday when East Development hosted the 2nd Annual Mid-Columbia 7-on-7.
On a very hot (high 90's) day, the Tri City Elite team coached/assembled by Jerry Mercado outlasted the competition, including a 13-7 win over the Prosser Mustangs in the championship game.
The Overall MVP for the day was Jace Navejas ('16 Tri City Elite/Kamiakin). This was really no surprise as we know Navejas to be one of the top athletes in the 2016 recruiting class. He impacted every game on both sides of the ball, and caught what ended up being the game winning TD in the final.
Offensive MVP was Masceo Ealy-Thomas, who along with Navejas had multiple TD's on the day. Ealy-Thomas capped a tremendous two days by helping the Elite squad bring home the hardware.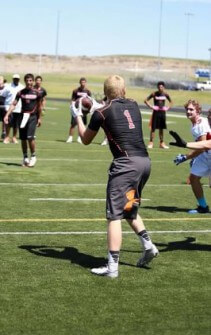 Defensive MVP ended up being split between Austin Urlacher ('15) and Isaiah Richie ('15), both of Chiawana High School. Urlacher is known more as a RB, but did a tremendous job shadowing the opposing team's top inside WR, even snagging a goal line INT to clinch the win for the Elite. Richie is an under the radar athlete with good speed and great football instincts. This coming season could bring big things for both athletes.
The Breakout Performer goes to Jair Ealy-Thomas ('15 Southridge). Brother to Masceo, Jair had a great day in leading the Elite team to the championship. Jair is a little bigger than his brother, and is still very raw as far as QB play goes.
Ketner Kupp ('15 WR/LB) and Eric Briscoe ('16 TE/S) of AC Davis continued to show great progression this offseason. Kupp has really risen the last few months, and once again was one of the best players on the field all day. Briscoe is a name being linked to a few Pac 12 schools, some who see him as an OLB. Both athletes look to be making moves towards playing D1 football.
Another AC Davis athlete was Elias Moctezuma ('15), who was no doubt one of the better QB's on the day, and looks to be fully recovered from an injury that cost him his junior season. Moctezuma is a good all-around athlete, and has really come a long ways as a passing threat.
One of the top QB's in not only the area, but in the state is Ruvim Tyutyunnik ('15) of River View (Finley, Wash) High School. From a small school that is probably best known for producing NFL offensive lineman Chad Ward, Tyutyunnik has developed almost a cult like following, as he is possibly the most exciting player to watch in 1A football. While the Panthers didn't perform to the best of their capabilities, they will still start the season as a top 10 team in the 1A classification.
Dre Dorton ('15) and Caleb Weber ('17) of Chiawana High School both showed very well. Dorton returns with as one of the more experienced Riverhawks on the roster, while Weber will see increased playing time, as he is one of the more hyped-up players in the Tri Cities area.
Prosser was one of the bigger surprises on the day, and Isaiah Sanders ('15) could've very well been named one of the day's MVPs. Sanders is a tremendous all-around athlete, and impacted every game on both sides of the ball. Look for more content on Sanders in the near future.
Last, but certainly not least is Gavin Crow ('16) of Kamiakin High School. I've seen Crow a few different times now, and he continues to grow on me. He is a solid two-way player that has gotten better as the offseason has progressed.
This is just a list of who stood out to me. There were a lot of great athletes in attendance, and I am sure I missed a few names. If you scroll to the bottom you will find the roster for the champion Tri City Elite squad.
For pictures from either the Combine or 7-on-7 event be sure to follow the corresponding links. Thank you to Florentino Gutierrez for making these photos available.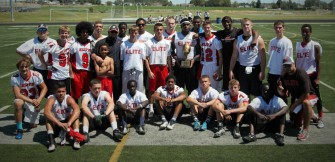 WR/DB Jace Navejas-Kamiakin, 2016
LB Dalton Tuevson-Kamiakin, 2015
WR/DB Drew Sanderson-Kamiakin, 2017
WR/DB Gavin Crow-Kamiakin, 2016
QB Evan Spiel-Kamiakin, 2017
RB/DB Awad Kori-Kamiakin, 2015
WR/DB Dre Dorton-Chiawana, 2015
WR/DB Isaiah Richie-Chiawana, 2015
RB/LB Austin Urlacher-Chiawana, 2015
LB Caleb Weber-Chiawana, 2017
ATH Masceo Ealy-Thomas-Southridge, 2015
QB Jair Ealy-Thomas-Southridge, 2015
WR/DB Andrew Stayrook-Southridge, 2015
LB Hayden Larson-Southridge, 2017
WR/DB Sammy Kori-Southridge, 2017
WR/DB Nick Hall-Southridge, 2015
RB/DE Mason Jackson-Richland, 2015
WR/DB Ryan Piper-Richland, 2018
WR/DB Gavin Brasker-Richland, 2018
WR/DB Sega Macduff-Richland, 2018
LB Ian Campbell-Chiawana, 2018
QB Austin Knode-Kennewick, 2017
RB/LB Brennan Barberich-Walla Walla, 2017