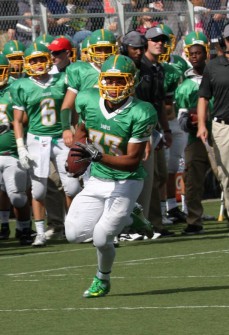 The Braves of Bishop Blanchet (Seattle, Wash.) are one of the more up-and-coming programs in the state's 3A classification, and one of the big reasons is the play of Oshea Trujillo ('16 ATH).
As Trujillo heads into his Junior season in 2014, he will be a three year varsity player, as he saw time as just a freshman, before becoming an All-Metro player last season.
"Being second team all metro was a great accomplishment for me and I strive to become a first team player this year," Trujillo told NEI. "My offseason goals are weights everyday along with speed training to work on my explosiveness and my lateral movement."
In being named second team, the five-foot-eleven inch Trujillo rushed for over 1,000 yards and accounted 22 total touchdowns, including a five touchdown performance against Lakeside in week three.
"My personal goals are to make first team all metro," Trujillo said. " I want to rush for at least 1,250 yards and have 25+ touchdowns. I would also like to become a better leader and teammate."
Last season the Braves started 5-0 and looked to be one of the surprise teams in 3A, but they faltered down the stretch and finished 7-3. Their season eventually came to an end with a 42-35 loss to Marysville Pilchuck in the round of 32.
"Team goals are to go undefeated through the regular season as well as league play," Trujillo says. " We want to at least play a game in the Tacoma dome. Also, we would like to become tighter as a team."
To get to those goals, the Braves are going to have to pass some serious tests along the way. Last season, two of their three losses came at the hands of league rivals O'Dea and Eastside Catholic.
"When facing Eastside Catholic and O'Dea we will line up and face them as if they were any other opponent," Trujillo noted. "We know it is different. We just need to match their physicality and fight for all 4 quarters."
Things are a bit light on the recruiting front right now for Trujillo, but that should all be changing as the season moves along. He projects highly on both sides of the ball, and does so at multiple positions. As his film begins to take shape this coming season, Trujillo should begin to see some D1 interest.
The Braves could turn some heads this coming season, as they return a solid class of athletes, with Trujillo at the top. I look forward to watching Trujillo and his teammates this coming season.