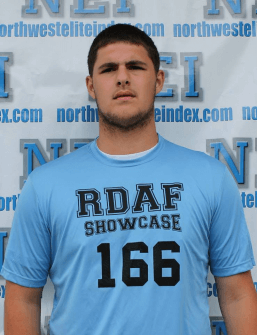 A team on the rise in the State of Oregon is the Valley Catholic Valiants out of Beaverton. They have recently made the jump from 3A to 4A, after their most successful season in school history where they finished (6-4).
The Valiants have been far from a traditional football power during the short period of time the school has had a team. Valley was a combined (9-41) prior to last year, so the turnaround was huge on multiple levels. Over the off season we saw multiple VC athletes attend our elite events and do well against some of the top competition in the state.
Jakob Pruitt (6-2 250 OL/DL 16′) will be one of the better lineman state wide for the 2016 class. He continued to impress all off season against some of the top upperclassmen in Oregon. Teammate Jacob Vincent (6-3 190 WR/LB 15′) is another kid that did well, having a breakout performance at Barton Football's largest camp and combine in Salem.
Referencing next year Pruitt says, "We believe our large group of upperclassmen will help carry us to a successful season". Adding, "Head coach and offensive coordinator Doug Ierardi and defensive coordinator Nick Hegwood have helped build a new program at Valley, hopefully establishing a successful football culture for years to come."
All state running back Clay Kemper (5-11 195 RB 15′) will return, along with standout skill kids in Vincent, JD Menkens (5-11 175 WR/DB 15′), and Kazuma Lane (6-1 200 TE/LB 15′). Sophomore QB Aidan Welsh will lead the group and has the potential of being one of the better 4A quarterback's in Oregon before he is done.
Three additional senior's will play a big role on the line in Drew Vanderzanden (6-1 245 C/DE 15′), Brian Oakes (G/NT 15′), and Conner Williams (OL/DL 15′). The Valiants have experience and size returning so their expectations are high even with the jump in classifications.
Pruitt says, "The addition of the new turf field and grandstands will give us an incentive to keep getting better, and will open up opportunities to play at the next level". He continued, "We have only had one player in the program's six year history move on to play college ball (Liam Walsh- George Fox 2013′) and we are looking to change that."
Small school Oregon football doesn't necessarily get a lot of pub, but Valley Catholic is worthy of some recognition. There are a lot of individuals who have worked hard to get the program moving in the right direction, and we wish to congratulate all of the coaches, families, and athletes who have paved the way for the upcoming season.