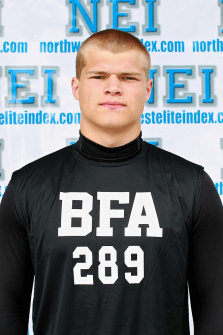 One of the country's top ranked LB's for the class of 2016 has had a busy off season to say the least. Joel Dublanko (6-3 225 LB 16′) of Olympia, Washington has been traveling all summer visiting many of the schools that have been recruiting him.
As of right now he is a consensus 4 star kid nationally, being offered by the likes of Tennessee, Mississippi St, and Washington St among others. He has been a standout on the Barton Football Camp and Combine tour since his freshman season and is a kid that we have gotten to know well.
Catching up to Joel and his family while in Southern California this past week he had some thoughts on the process. "It's been fun getting to visit all of these universities and a blessing that I have some of the opportunities that I do". He continued, "I am keeping my options open and grateful for the schools that have offered me, I just want to keep working on my game and get for the ready for the season."
Dublanko will be one of the most recruited athletes in the country for his class but the kid is much more then that. "I got to visit Stanford for my third time and it was cool that my mom and brother got to come along this past week and see what it was like". He also attended a church camp down in Southern California saying, "My brother and I had a great experience, getting to attend a lot of different services while playing games with the group."
There were a lot of positives as Joel and his father Craig spoke on their recent stops. In no specific order here are some of the notes from the collegiate camps over the last few months.
OREGON – He has a very good relationship with the staff and had an exceptional camp. An offer is likely
GEORGIA – Had a good camp at the SEC school and has maintained a good relationship with the LB coach.
CLEMSON – Dublanko considers Clemson one of his favorite schools, liking it so much that they changed their schedule so they could come back for a second visit. Joel met with Head coach Sweeney and loves the LB coach (Venables). The culture there is awesome as he fits their defensive scheme perfectly. An offer looks eminent.
DUKE – Very brief stop
WAKE FOREST – Several of his Team USA buddies are going there and they have encouraged him to do the same. He has a good relationship with the LB coach and likes the school a lot.
TENNESSEE – Joel has loved UT since camping there last year. The offer from the Vols was big as he loves Coach Thigpen, while also having a very long and good meeting with Coach Jones. The campus and facilities are as good as they get and Dublanko thinks highly of Tennessee.
VANDERBILT – Dublanko had an impressive workout and was told he moved to the top of their board, as he can play either inside or outside for them.
STANFORD – Took his 3rd visit their last week. Staff said he looked more athletic in person than on film. Worked out with two top 2015 kids towards the end of the camp and really impressed. Definitely a high level of interest.
WASHINGTON – Workout went well. Joel won the race among all linebackers, showing off impressive speed and overall athleticism for a big kid. He also looked solid in the one on one's and talked with the coaches at length after.
OREGON STATE – LB Coach Trent Bray expressed significant interest at the end of their team camp.
UCLA – Joel has maintained communication with Jim Mora and they have reaffirmed their interest.
As we have said time and again Dublanko is one of the most humble kids you will ever come across. He projects as one of the top LB's to ever come out of Washington, and should see a host of additional top 25 programs extending an offer over the next year. Congrats to Joel on his continued success we will bring you updates as they happen.