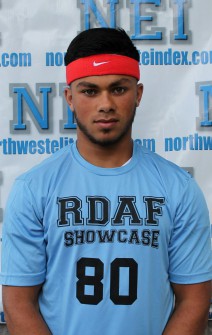 You will begin to hear more and more about the 2016 recruiting class, as many will be taking leading roles heading into their Junior season. A name from the 2016 class to keep an eye on is Gabriel Gallman of Kent-Meridian (Wash.) High School.
At five-feet-eight, and weighing 170 pounds, Gallman is a stout DB, that really excels in press coverage. He has even turned some heads at big regional events this offseason, including the Rough Diamonds College Showcase, where his name was repeatedly called during the one-on-one session.
"The coaches there were impressed by my press coverage skills, but they want me to work on controlling the receiver in the direction I want him to go after I get a good jam on him," Gallman told NEI. "I have had contact with Eastern Washington University, Carroll College and University of Puget Sound."
Last season Gallman was an Honorable Mention athlete, even after missing three games to a minor knee injury. He also runs track for the Royals, and has made it to state as both a freshman and sophomore, helping as the trigger leg of the 4×100 relay team.
Gallman has seen his stock steadily rise over the offseason, and attributes his success to two major influences.
"I attribute that to all of the hard work I have done this off season with help from my track coach, coach Barto and my athletic trainer/ mentor coach James Laurence," Gallman states. "Day in, day out on the track with coach Barto but also in the weight room and on the field with coach James. Not Only do I feel that I am more qualified physically, but everything is coming together mentally, too.
"The drills that I'm put through daily are really starting to show progress with my feet and hips agility on the field. The work never stops though, I am still working hard to be the elite player I know I can be for my team and for myself."
The Royals finished a disappointing 3-7 last season, including a heartbreaking 31-28 loss to Auburn, who have now won 15 straight times in the battle for the Taylor Trophy.
"First of all, we want to win the Taylor Trophy game," Gallman noted. "A major goal is for our defense to be the best in the SPSL at least, our defense holds it down, we trust that our offense will score. Another big goal is to win the Kent Cup by beating all other teams in Kent. Of course the ultimate goal is state."
With a strong cast of returning athletes, Kent-Meridian could make a decent run this coming season, as the SPSL Northeast division appears to be wide-open. I look forward to watching Gallman grow in the coming years, and will keep you updated on his progress.