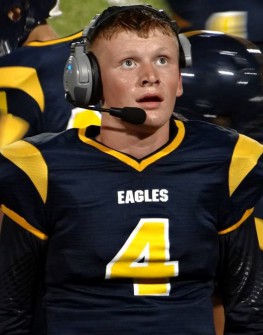 A team you will hear much more about in the coming season is the 4A Stayton Eagles. The kids from the Oregon West Conference return 18 starters (8 offensively), and what could be one of the top junior QB's in the state.
Kyle Schwarm (6-3 185 16′ QB) started as a sophomore and can sling it. He has been training at the Barton Football Academy for the last couple seasons and is excited about the future saying, "We have a lot of talented kids returning and everyone has been working hard."
The Eagles will return their top two receivers in Everett St. Clair (5-8 165 16′ Slot/DB) and Ben Diehl (5-10 170 16′ WR/S) . Both kids started last year with Everett holding records for the most receiving yards in a season. Schwarm hit on 52% of his passes (110 for 210) for 1,459 yards and 10 total Td's.
Stayton will rely heavily on a veteran line that returns multiple starters in Troy Donahue (15′), Devon Garber (16′), and Kevin McFadden (15′). Last season was somewhat deceiving as they finished (1-8), but also played traditional 4a powers in Gladstone, Central, Philomath, and others.
This past weekend Schwarm, St Clair, and Diehl all had stand out performances at BFA'a first annual overnight weekend camp in Salem. They are all about competing, and working to put themselves in the best position possible for the next two seasons.
Look for Stayton to challenge for a playoff spot this year and be one of the most improved teams state wide at the 4A level. They bring back experience up and down the board and are excited for the 2014 season to get underway. In closing Schwarm says, "We will leave it all out on the field and are expecting a much improved year."